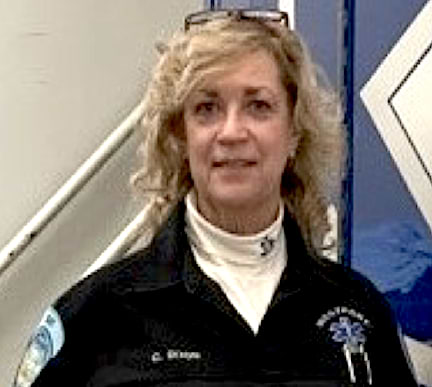 By Gretchen Webster
WESTPORT — Carol Dixon, an emergency medical technician for the Westport Volunteer Emergency Medical Service for 20 years, is known for the compassion she expresses in both word and deed.
Now, she has been recognized for it.
Dixon is a First Place/Gold Award winner in an essay contest sponsored by the Patient is U Foundation, which recognizes health professionals for compassionate service as they interact with patients.
In her essay, "Choose Compassion," Dixon recounts the compassionate care she received as a 13-year-old with kidney disease; the compassion she tries to provide as an EMT, and the compassion she received from a nurse when her husband died.
"At some time, each of one of us will need compassion and will have the opportunity to show it," Dixon wrote.
"Compassion is a thread connecting us all and weaving us together into life's tapestry," the essay continues. "We must never doubt the potential impact of a moment of compassion or hesitate to show it."
Dixon describes the feelings of isolation she felt as a child alone in the hospital without her parents, which eased when a nurse held her hand and comforted her. She also writes about an incident when, as an EMT, she did the same — holding the hand of an injured woman being cut from a wrecked car in which she was trapped.
And she remembers the comfort offered by a compassionate nurse who helped her leave her husband's bedside after he had passed.
Dixon is going to use the $2,000 essay prize money to take a training course to become an end-of-life doula — a professional who offers support for a dying person, as well as the person's family and friends.
"Carol is a long-term member [of Westport Volunteer Emergency Services] and one of the most passionate givers I've ever met," said Michael Burns, president of the Board of Directors of WVEMS. The essay contest "was about compassion and that exemplifies Carol to a T."
Dixon also was one of the 2021 recipients of the annual WVEMS Volunteer Recognition Awards.
A resident of Greenwich, Dixon works for the Greenwich Health Department as an administrator. She started training as an EMT in Westport because the local emergency medical services had just won a gold award as the best volunteer organization in the country, Dixon said. "Once I took the course from Westport I thought I should serve there since they trained me."
And she has continued to volunteer with WVEMS ever since, usually Friday nights.
She encourages people to consider becoming a volunteer at WVEMS, observing that Westport is a wonderful town to volunteer because of the support and encouragement the organization receives.
"As a service, we are very grateful for the support that we receive from the citizens of Westport," Dixon said. "They're amazing and we are happy to serve them."
Read Carol Dixon's full essay, "Choose Compassion," by clicking here.
Freelance writer Gretchen Webster, a Fairfield County journalist and journalism teacher for many years, was editor of the Fairfield Minuteman newspaper for 10 years and currently teaches journalism at Southern Connecticut State University.