By Jarret Liotta
Officially endorsing its slate for November, the Democratic Town Committee strived to circle its wagons Wednesday night — on the heels of recent conflicts — and move forward with a united face.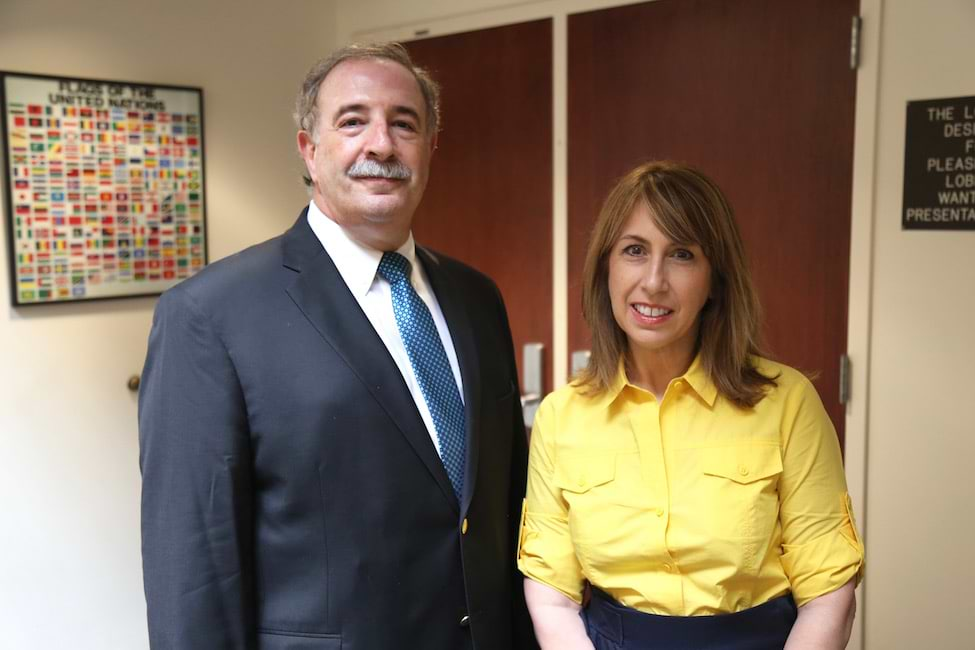 Jonathan Steinberg, a Westport native who has served the town as state representative for the 136th District since 2010, was overwhelmingly endorsed as the first selectman candidate in a vote of 57-2, with one abstention.
His running mate, Candice Savin, who currently chairs the Board of Education, was unanimously endorsed for second selectperson.
"Together, Jonathan and I will make Westport better than ever," she said.
"I am obviously honored to accept the party's nomination tonight," Steinberg said. "Thank you for your overwhelming testament of support."
Briefly outlining some of his targeted goals, including a focus on revitalizing the downtown and addressing traffic issues, Steinberg made a pitch for kindness and ethics throughout the process.
"Let us vow going forward to be our better angels," he said. "That's what we stand for as Democrats … the party which stands for doing right by people."
During the last month two lawsuits were filed and later withdrawn by DTC member Kristan Hamlin, an attorney and eight-year veteran of the Representative Town Meeting for District 4. Different claims were made against Steinberg and DTC Secretary Lisa Newman relating to the nominating process and defamatory remarks made behind closed doors.
Meeting virtually for the first time since the lawsuits, Chair Ellen Lautenberg strived to step carefully through the proceedings, enlisting help from two state officials in an effort to adhere to protocol.
After the first candidates for the Board of Assessment Appeals were unanimously approved, however, Hamlin interceded with procedural concerns.
As a result, a roll call of the 60 members was demanded on a couple of the other nominations, though none of those were approved by less than 59 of the 60 members in attendance.
Andrew Nevas, who chaired the nominating committee, stressed the integrity of the process in selecting Steinberg before presenting all the names under consideration.
"The committee spent many hours interviewing and discussing five high-quality individuals," he said.
"The decision to choose Jonathan was based upon his record, his experience, the depth and breadth of his knowledge on the issues," he said, as well as his "electability."
He said the procedure was fair and not predetermined in any way.
"The committee had no agenda other than to select the best person," he said.
Rob Simmelkjaer, a former Board of Selectman candidate who chairs the Connecticut Lottery Board, gave a statement to his fellow Democrats urging unity.
"I think that we all know we've seen some regrettable things happen in this organization over the last month or so," he said.
"Disputes and arguments are to be expected during a political year … but when these disagreements rise to the level of personal attacks, or public attacks, something is wrong," he said.
He asked his fellow members to instead handle disputes within their own ranks, noting they needed to keep their attention focused on larger issues in order to win elections.
Steinberg, a clear favorite among DTC members, was highly praised for his work.
"He's not shy for standing up for what he thinks is right, even if it means standing up to his friends, like me," Rebecca Martin said in nominating him.
"Anyone who wants to convince Jonathan of something, needs to come at him with policy and not politics," she said, hailing him as a "proven winner" who can take the seat being vacated by Republican First Selectman Jim Marpe.
Steinberg will be facing off against Second Selectperson Jennifer Tooker, who is running alongside Board of Finance Vice Chair Andrea Moore.
While DTC member Evan Barr abstained from endorsing Steinberg, the only two members opposed were Hamlin and Sheri Gordon, who serves on the Board of Finance.
"I think there have been questions raised and I'm concerned that we are setting ourselves up for a situation where we may not be putting the best person forward to lead us," Gordon said, citing a dissenting vote Steinberg made against family paid-leave legislation in Hartford.
"We are running against two women … It concerns me," she said. "I want to win."
Other candidates endorsed by the DTC included Board of Finance incumbents Lee Caney and Chair Brian Stern.
Planning and Zoning Commission incumbents Michael Cammeyer, Neil Cohn, and Chair Danielle Dobin were endorsed.
For the Board of Education, political newcomers Kevin Christie and Christina Torres received endorsements.
For the Zoning Board of Appeals incumbents Josh Newman and Amy Wistreich received endorsements.
For the Board of Assessment Appeals incumbent Lynette Pineda was endorsed, along with newcomer Ifeseyi Gayle.
"We are so pleased to have all of these wonderful candidates and I feel really excited about the slate we are putting forward," Lautenberg said.