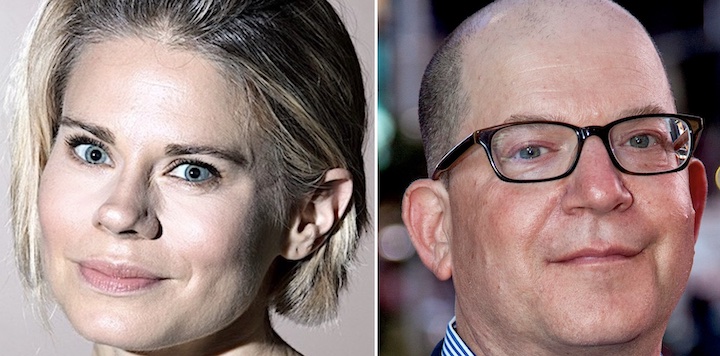 WESTPORT — Westport Country Playhouse will host two events next week, part of the theater's "reimagined" slate of offerings designed to appeal to broader audiences.
On Sept. 18, Tony Award winner Celia Keenan-Bolger will be featured in a play-reading performance of "100 Saints You Should Know." On Sept. 22, writer Laurence Maslon will discuss his new book, "I'll Drink to That!"
The presentation, part of the theater's "Hand in Script" play-reading series, will take place at 7 p.m. Monday, Sept. 18, at the playhouse, 50 Powers Court. Tickets cost $25, and can be reserved online by clicking here.
Celia Keenan-Bolger, who won a 2019 Tony Award for her portrayal of Scout in "To Kill a Mockingbird" on Broadway, will be the featured performer in the drama "about the challenges of maintaining one's faith in a modern world," according to the playhouse announcement.
The play was written by Kate Fodor, and the Script in Hand presentation is directed by Maria Dizzia.
The presentation should "move our audience deeply, digging into issues of identity, hope, faith, loss and the discovery of a shared, though tenuous, common ground between two lost souls and those who surround them," Mark Shanahan, the playhouse's incoming artistic director, said in the press statement.
"I'll Drink to That! A Broadway Cocktail Hour"
The new book, "I'll Drink to That" will be discussed by author Laurence Maslon in a program interspersed with songs and scenes from Broadway shows.
The event, featuring two "specialty cocktails" for attendees, will take place at 6 p.m. Friday, Sept. 22, in the playhouse courtyard and adjacent Lucille Lortel barn. Tickets cost $50 and can be reserved online by clicking here.
Maslon, a New York University arts professor and associate chairman of its graduate acting program, is also the author of several books on American theater and musical, as well as a script writer of PBS documentaries, a former member of the Tony Award nominating committee and a contributor to numerous publications.
After seeing a production of Noel Coward's "Private Lives," "It struck me that the glamour of Broadway and the elegance of a cocktail will always go hand in glove, or 'hand and glass,' " Maslon said in publicity for the program.
"This book — with Joan Marcus's sparkling photos — gives readers an effervescent overview of that bubbly relationship, as well as more than a few choice anecdotes to dazzle any after-show cocktail conversation," the writer added.
For more information about either program, call the Westport Country Playhouse box office at 203-227-4177 or visit the theater's website.