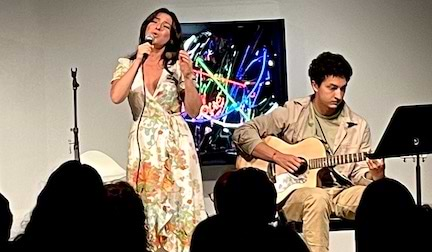 WESTPORT — Singer Michelle Pauker, a Westport native, performed before a gallery of hometown fans Saturday at MoCA Westport.
The Staples graduate, in her second appearance at MoCA, gave a performance showcasing music by Joni Mitchell, who she considers an inspiration.
Pauker was accompanied by multi-instrumentalist Ravi Campbell, vocalist Rachel Hoy and composer/director Jake Landeau.
The performance was part of the "Music at MoCA" series, which next features Vanisha Gould, a Jazz at Lincoln Center Emerging Artist, on Saturday, June 10. For more information, visit the MoCA Westport website or call 203-222-7070.