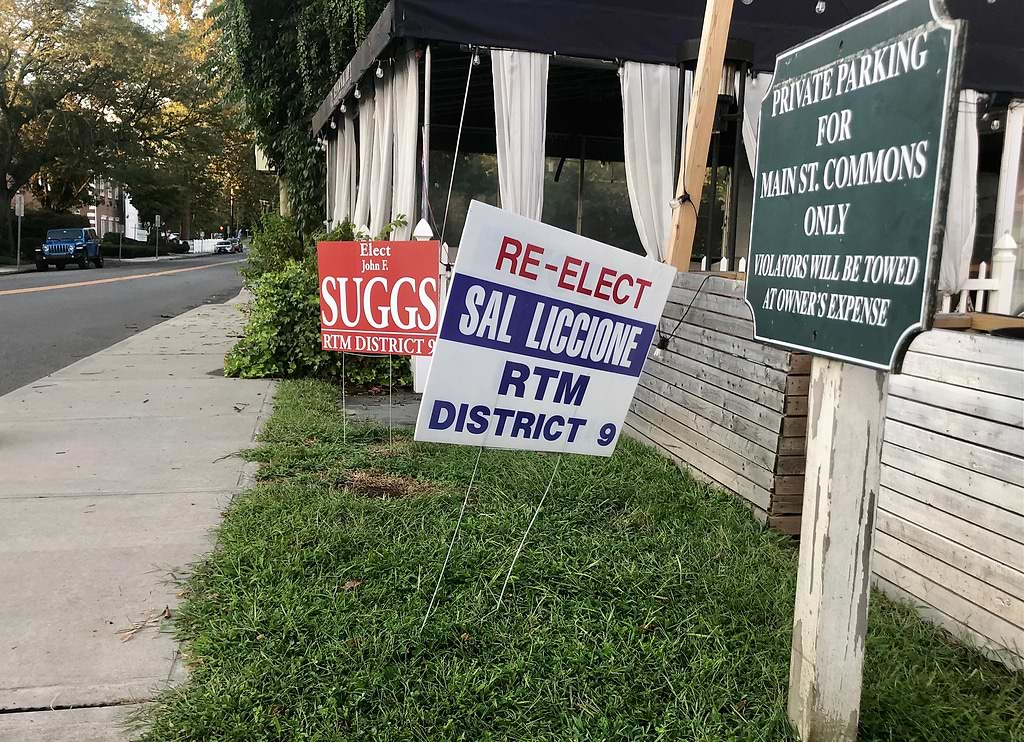 By Thane Grauel
WESTPORT — Petitions to run for the Representative Town Meeting are in and several districts will see some real competition.
If anyone's been wondering what issues are on the mind of the citizenry, the downtown parking development plan and the Long Lots Elementary School rebuild appear to loom large in the Nov. 7 election. Town Hall scuttlebutt also indicates concerns about governmental transparency.
The RTM is the town's non-partisan legislative body, with 36 members from nine districts. They're up every two years for re-election.
Here's how the race looks now, ranked by contention:
District 9
District 9 — the downtown area and thereabouts — has seven candidates for just four seats.
Incumbents Sal Liccione, Nancy Kail and Kristin Schneeman seek re-election. Lori Church is not running again.
Former RTM member/former Westport Transit District Director Jennifer Johnson is running again.
So is John F. Suggs, a former RTM District 5 member and candidate for first selectman, who now resides in District 9.
Rounding out the choices are Douglas Enslin and Rachel S. Halperin.
The controversial proposed redesign of Parker Harding Plaza has been an issue in the district.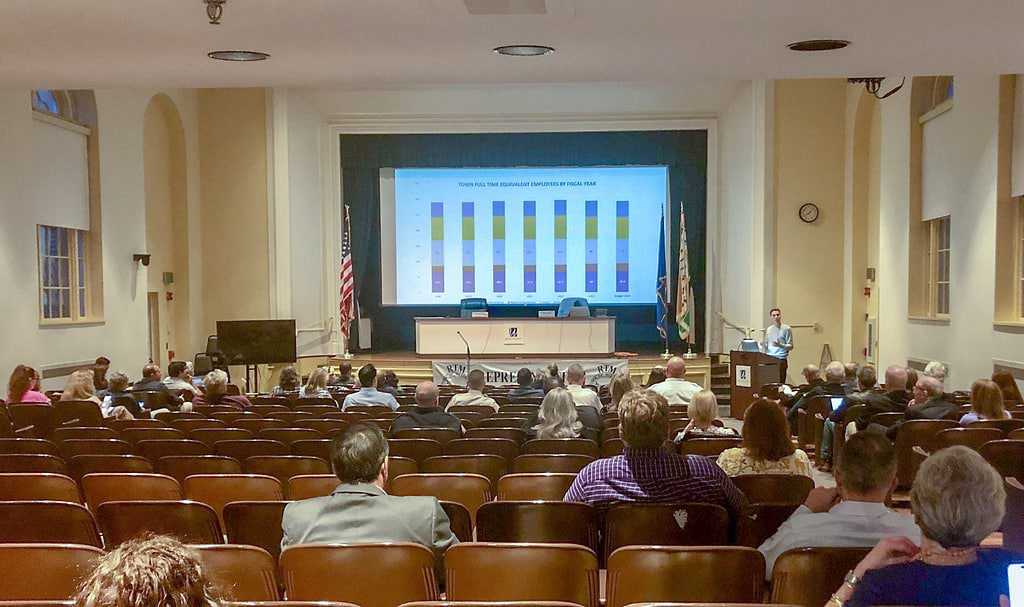 District 6
District 6 also has an abundance of candidates.
Incumbents Candace Banks, Jessica Bram, Seth Braunstein and Brien Buckman (an appointee) seek election. Newcomers seeking a seat include Alma Sarelli, who ran for the state 136th District in last year's election. David Rosenwalks, a member of the town's Arts Advisory Committee, and Louis E. D'Onofrio jr., a selectman candidate two years ago, also are seeking election.
District 1
District 1 has one more candidate than seats to fill.
While Liz Milwe is not running again. Incumbents Matthew Mandell, Kristin Mott Purcell and Christ Tait are.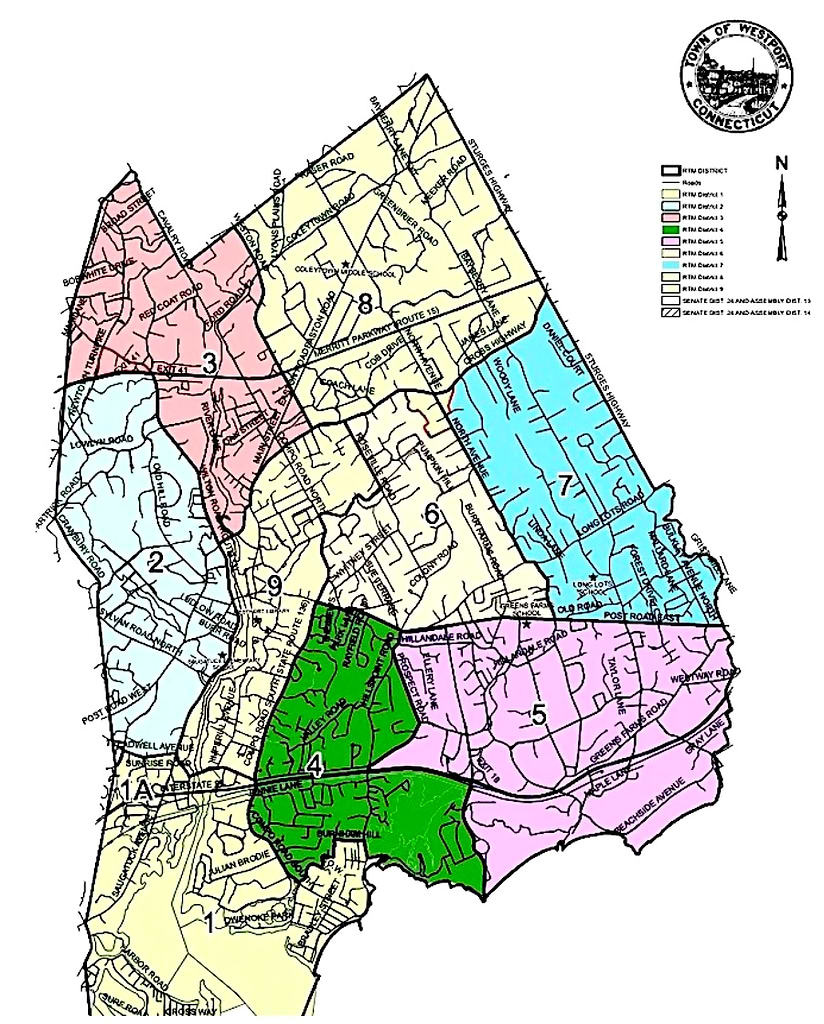 Enter candidates Richard Jaffee, a former RTM member, and Andrew Bloom.
District 2
District 2 also has one more candidate than seats.
Incumbents Harris Falk, Jay Keenan, Louis Mall and Michael Perry are all in.
Melissa Levy is challenging.
District 4
In District 4, James Bairaktaris is bowing out. Clarence Hayes is running, along with incumbents Andrew J. Colabella, Noah Hammond and Moderator Jeffrey N. Wieser.
District 8
In District 8, Stephen Shackelford is opting out (he's been a bit busy), and Ari D. Benmosche is seeking a seat along with incumbents Wendy Goldwyn Batteau, Rachel Steel Cohn and Julie Uman Whamond.
Districts 3, 5 and 7 snoozy
In District 3, Ross Burkhardt, Lyn A. Hogan, Jimmy Izzo and Don O'Day are seeking re-election, unchallenged.
In District 5, all four incumbents are running for re-election without a challenger: Peter Gold, Karen Kramer, Dick Lowenstein and Claudia Shaum.
In District 7, incumbents Brandi Briggs, Lauren Karpf, Jack Klinge and Ellen Lautenberg Hendel are running unchallenged.
Thane Grauel grew up in Westport and has been a journalist in Fairfield County and beyond for 35 years. Reach him at editor@westportjournal.com. Learn more about us here.