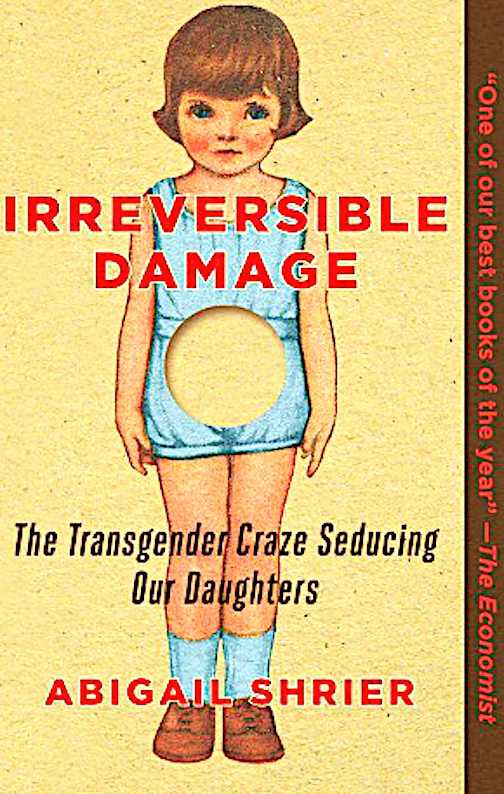 By John Schwing
WESTPORT — A book about "damage" purportedly posed by a "transgender craze," which Westport Library officials declined to add to its collections last year and triggered accusations of "political censorship," will be returned to the library shelves.
In a letter dated July 20, Library Director William Harmer wrote in response to 46 people who complained, in a June 29 letter, that the library selection committee's refusal to acquire the book, "Irreversible Damage: The Transgender Craze Seducing Our Daughters," also was "unacceptable and most likely unlawful."
In his letter, Harmer said the acquisition appeal was re-evaluated and the book will be added back into the collections as part of the Westport Library''s commitment to "to making available books and materials that promote diversity of thought and opinion and deepen patrons' understanding of issues."
Harmer underscored, however, that "inclusion of any materials in the library collection does not constitute or reflect an endorsement of any particular opinion, idea, or viewpoint by the library."
The library director noted the book, published in 2020, initially was added to the collections in February 2021, but "circulated only once, and was withdrawn in June 2021."
"Irreversible Damage: The Transgender Craze Seducing Our Daughters," by Abigail Shrier, discusses "educators and therapists who push life-changing interventions on young girls," according to a description posted on the Barnes & Noble website.
"A generation of girls is at risk. Abigail Shrier's essential book will help you understand what the trans craze is and how you can inoculate your child against it — or how to retrieve her from this dangerous path," the description continues.
The book is published by Regnery Publishing, which publishes "Conservative Books For Independent Thinkers," according to the company's website.
In "Irreversible Damage," according to Alessandra Gordonos, who authored the letter of complaint signed by 45 others, "Shrier addresses the controversial subject of gender dysphoria and takes a critical look at various medical practices.
"While the book has been attacked by proponents of these practices, it has also been hailed as an important and well-researched book by The Economist, The Times of London and many other respected publications and commentators," Gordonos wrote.
Gordonos, a biologist, added, "I also participate in a local book club, whose members were interested in reading and discussing this well-known book, in part to benefit from my scientific background."
The library selection panel, in its decision not to acquire the book, said that was, in part, "due to the mixed reviews. … The book reviews talk about omitted information and misinformation from some of the results of the studies the author cites in the book. Because we could not trust the information in the book it was decided not to add it to the collection."
The Westport Library's full "Collection Development Policy" is posted on its website.
But Gordonos's letter frames that decision differently.
"Unfortunately, the effective 'cancellation' of this book appears to be representative of a pattern," she wrote. "Attempts by community members to bring in speakers who are critical of certain progressive perspectives have been stymied."
Harmer, in his response, wrote the library "recognizes that public response to the book has been divided; that the book endorses theories concerning gender identity and gender dysphoria that are controversial and disputed, and that the book's accuracy and objectivity have been challenged."
The decision to return "Irreversible Damage" to the library's shelves, he said, "takes into account the extent to which other materials addressing gender identity and expression, gender dysphoria, being transgender, adolescence, development, and related topics are available in the library's collection, as well as the library's commitment to providing materials that reflect a diversity of thought and opinion."
Harmer noted the library also has "more than 100 physical books, over 900 ebooks and other materials" on related topics.
The Westport Library's "collection is dynamic," he added "Materials in the library's collection are subject to ongoing evaluation and may be retained or withdrawn by the library as circumstances change or warrant."
John Schwing, the Westport Journal consulting editor, has held senior editorial and writing posts at southwestern Connecticut media outlets for four decades. Learn more about us here.
The full text of Westport Library Director William Harmer's July 20 letter appears below: