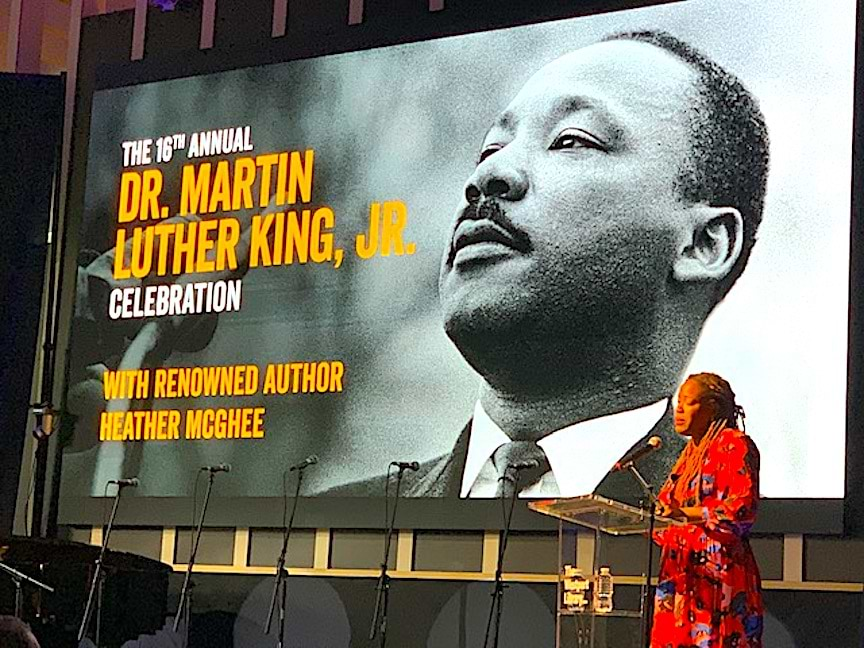 By Gretchen Webster
WESTPORT — "Racism has a cost for everyone," author Heather McGhee told the annual Martin Luther King Jr. commemoration Wednesday night at the Westport Library.
McGhee, the author of the best-selling book, "The Sum of Us: What Racism Costs Everyone and How We Can Prosper Together," became emotional as she spoke to the local audience "just days after a racial massacre" at a supermarket in Buffalo, N.Y.
McGhee outlined many moments in U.S. history when Black Americans have been forced to "the bottom of the hierarchy," she said.
That includes when Social Security benefits were denied to Black workers when domestic and agricultural jobs were exempted from the program; when Americans of color were unable to buy homes in the housing boom after World War II because they were considered a credit risk, and when public amenities such as swimming pools and parks were closed to avoid integration as the civil-rights movement gained momentum.
The lie: Races "are in competition with one another"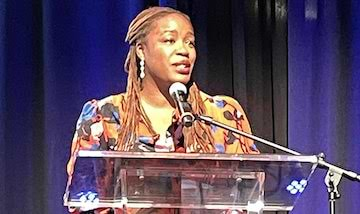 Such actions and continuing racial resentment against people of color comes from the belief among some white Americans "that Black people take more from our country than they give," McGhee said. "It's not just us that are harmed by this lie — the lie that we are in competition with one another," she said. "Injustice anywhere is a threat to justice everywhere," she said, quoting Martin Luther King Jr.
"People of color don't believe that our progress has to come at white people's expense," McGhee said, but unfortunately, some white people believe that they are harmed when Black Americans succeed. Despite years of efforts to combat racism, she said, "a white high school dropout has greater average household wealth than a Black college graduate."
Debunking "zero sum" theory
In "The Sum of Us" and a TED talk with more than 2 million views, McGhee discusses "the zero sum game," a theory that when one person or group gains, another person or group loses an equivalent amount. That has led to an even deeper racial divide, she said, as some Americans now promote "the replacement theory," promoting the view that people of color are replacing whites, who then will be a minority.
"There is only one race — the human race," McGhee said.
Her talk, postponed from the usual January date for the King commemoration after she caught COVID, was sponsored by the library, the Westport-Weston Interfaith Council, TEAM Westport and the Westport Country Playhouse.
Also featured at the event was a performance by members of the Bridgeport Boys Choir and a virtual performance by dancers from the Regional Center for the Arts in Trumbull.
TEAM Westport reacts to Buffalo massacre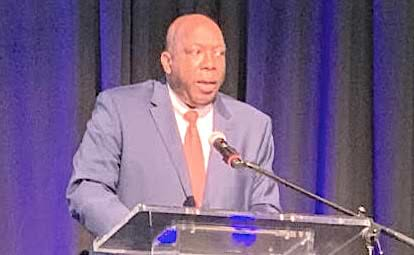 Harold Bailey Jr., the chairman of TEAM Westport, an advisory committee to the first selectwoman on topics of diversity, equity and inclusion, opened the event with a draft statement from the committee "on the issue of belonging in Westport."
The statement is his organization's response to the mass shooting that killed 10 people and wounded three others, nearly all of them Black, by a white supremacist last Saturday at a Buffalo supermarket.
"The horrific racist massacre of Black Americans last weekend in Buffalo, New York, is an atrocity that should be a wake-up call to cities and towns across the nation, including our own town of Westport," the statement read in part.
Other points of the TEAM statement, which Bailey said will be formalized by the committee, include:
"We must not remain silent when the value of Black lives is questioned.
We must not remain silent when Asian-Americans are blamed for disease.
We must not remain silent when anti-Semitic and ethnic slurs are uttered.
We must not remain silent when the lives of the LGBTQ community are disavowed.
We must not remain silent when the rights of women to make decisions about their own bodies are threatened.
We must not allow fear to prevent educational institutions from teaching our country's factual history to our children.
We must not remain silent when we hear phrases such as 'we don't like that diversity and equity stuff'."
Gretchen Webster is a freelance writer and frequent contributor to Westport Journal. Learn more about us here.