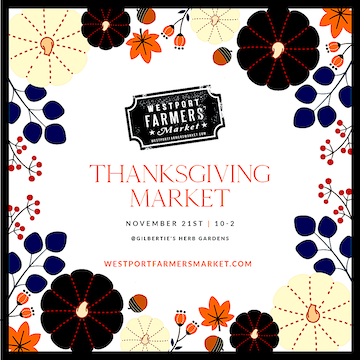 WESTPORT — The Westport Farmers Market, transitioning between seasons, plans a special holiday market Nov. 21 at its winter quarters on Sylvan Lane.
The event, featuring a full culinary range from turkeys to vegetables to desserts, will take place from 10 a.m. to 2 p.m. Tuesday, Nov. 21, at the farm market's winter site at Gilbertie's Herbs and Garden Center, 7 Sylvan Lane.
Thirty vendors will be on hand to provide "one-stop shopping to make … your holiday meal less frenetic and more enjoyable," according to a publicity release.
Among the vendors scheduled to participate in the holiday market are:
Fort Hill Farm, Cloudy Lane, Riverbank Farm, Edgewise Ox Hollow Farm, Woodland Farm, Kent Falls Brewery and Paul's Custom Pet Food.
Also, Wave Hill Breads, Herbaceous Catering, Farmers & Cooks, Boxcar Cantina, Kneads Bakery, Calf & Clover, Seacoast Mushrooms, Sprout Juice and Badass Bagels.
And, Ideal Fish, Sport Hill Farm, Fatto a Mano, Herbal Deva, Bubble & Brew, Muddy Feet Flower Farm, Jackie's Empanadas, Plantidote, Nit Noi Provisions, Stylish Spoon and Kontoulis.