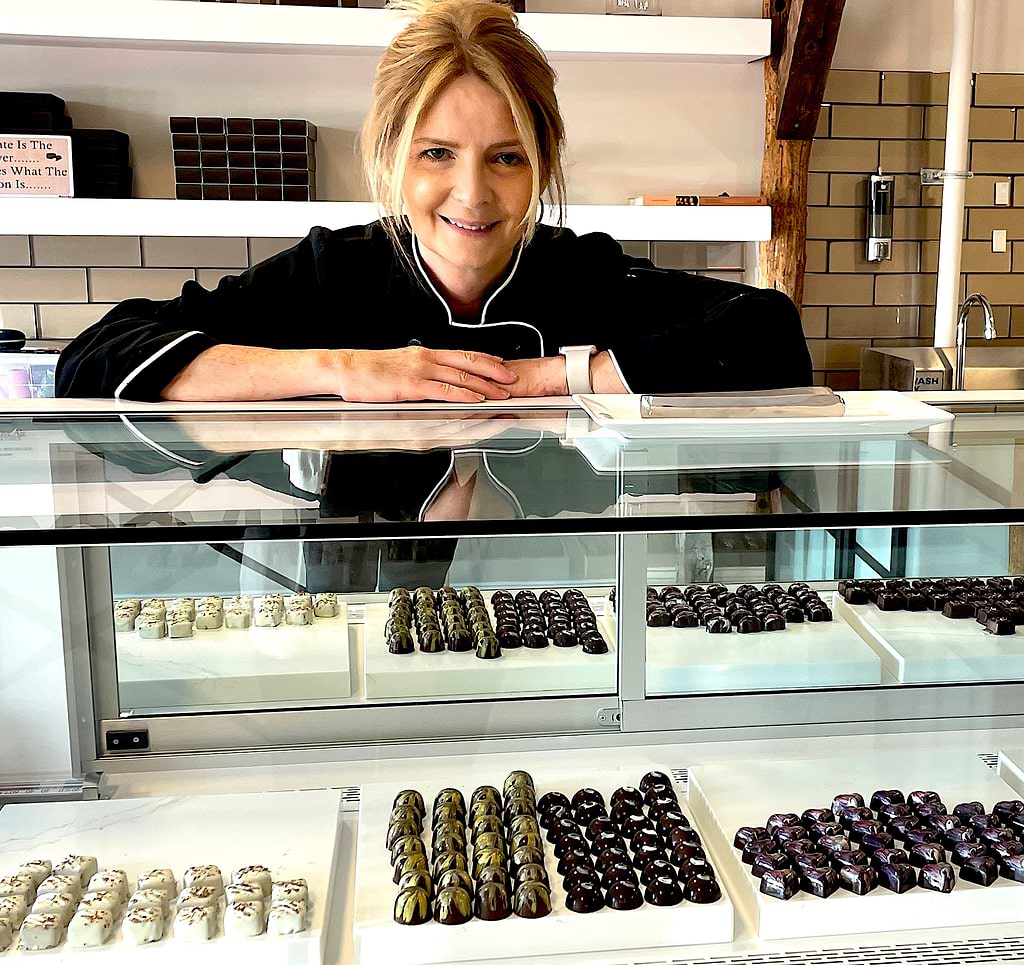 By Gretchen Webster
WESTPORT — At a small shop on Church Lane where chocolates are both made and sold, a Westporter who worked in the health industry during the chaos of the pandemic is finally realizing her sweet dream.
"We just need a little bite of happiness," chocolatier Laureen Haynes said of the deluxe chocolates she makes herself. "That's what I'm bringing to the community."
The Chocolatieree — the shop's name is a combination of chocolatier, or someone who makes chocolate, and "Ree," the owner's nickname — is located in a small building at 66 Church Lane, which previously housed a dog groomer, then a jewelry store.
The front room on a recent weekday featured a display case of hand-crafted chocolate treats: coffee caramel, sunflower seed butter cup, coconut ganache, sea salt caramel and blueberry lavender ganache.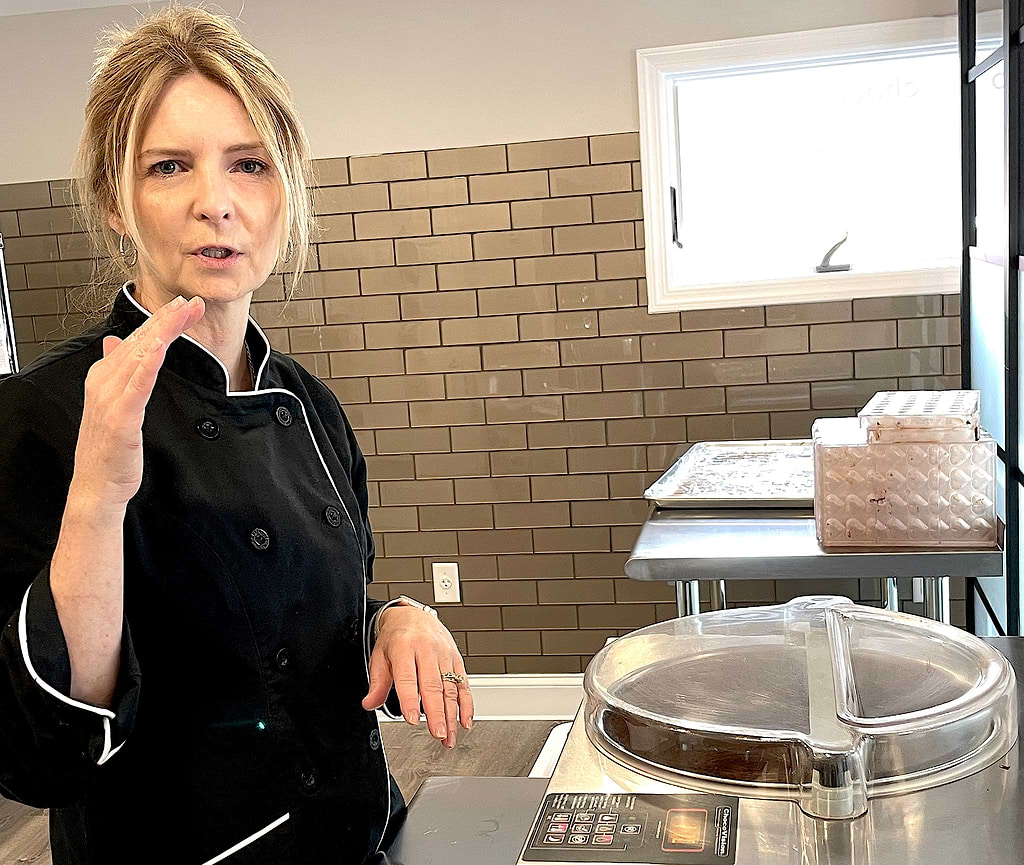 In the back of the shop is a kitchen, where chocolate was swirling around in a tempering machine, to give the candies the smooth luster that makes them gleam.
The Chocolatieree chocolates are made from fresh ingredients, and do not include preservatives, she said. A scientist by trade, she spent years researching the best ingredients and methods to make chocolate. "In the U.S., we lost the taste of good chocolate," she said.
Haynes traveled to South America where she studied how cacao is grown — the natural base for chocolate — and to Paris to study European-style chocolates, which she called "fresher" than chocolate traditionally found in this country. Her goal: to produce what she called "not-over-industrialized chocolate."
A self-proclaimed "foodie," Haynes had the idea of opening her own chocolate shop for years, and looked around Westport to find the right small premises for the business.
Connecticut's Cottage Food law, which permits certain foods to be produced on a small scale in home kitchens, allowed her to begin and test her small business, preparing and shipping her homemade chocolates for weddings, bar and bat mitzvahs, and other occasions. She recently provided 600 chocolates for an area gala.
In November, Haynes left her career in laboratory diagnostics, where she managed a supply chain providing COVID tests to hospitals during the pandemic, to work in her new retail endeavor full-time.
She now looks forward to greeting customers at her downtown shop.
"This has always been my dream," she said.
The Chocolatieree, 66 Church Lane, is open from 11 a.m. to 6 p.m. Wednesdays through Fridays, and 11 a.m. to 5 p.m. Saturdays. Chocolates are sold by appointment only on Mondays and Tuesdays, which are production days in the shop. For more information, email Laureen Haynes at ree@chocolatieree.com or call 203 984-6474.
Bridgewater Chocolate plans Westport shop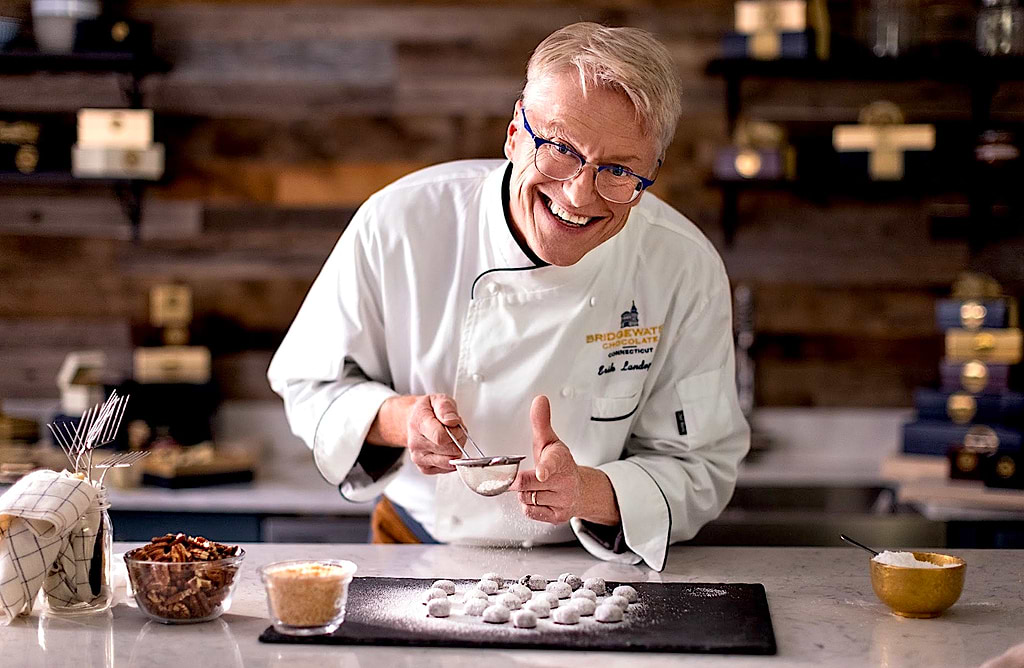 Another chocolate shop, Bridgewater Chocolate, is expected to open in September at 165 Main St. at the rear of Parker Harding Plaza.
Bridgewater Chocolate — which has a factory and two stores in Brookfield, and another store in West Hartford — sold chocolates in Westport from a pop-up store on Church Lane during last year's holiday season.
"It was a test to see if we could launch in Westport full time," said Marlene Steiner, brand director for Bridgewater Chocolate. "It was a very successful run for the holiday season."
The business was founded in 1995 in the small Litchfield County town of Bridgewater by Erik Landegren, a Swedish chef at the Aquavit Restaurant in Manhattan. 
He began selling European-style chocolates in a village store, eventually partnering with Andrew Blauner, who co-owns the company today, according to Steiner.
Bridgewater's new Westport store already "has all the proper town approvals," and is prepared to bring "a wonderful experience for the [chocolate] shopper to Westport," when it opens in September, she said.
The company is especially known for the Bridgewater Assortment, its signature product, Steiner said. The assortment comes packaged in a hinged box with a hand-tied bow.
Even though the Westport store is not yet open, customers can order through the company's e-commerce business directly from the factory, she said.
Bridgewater Chocolate has had customers in southern Fairfield County for years, she added, and the company looks forward to serving them, and new customers, when the new store opens.
For more information or to order from Bridgewater Chocolate visit its website or call 203-775-2286.
Gretchen Webster is a freelance writer and frequent contributor to Westport Journal. Learn more about us here.