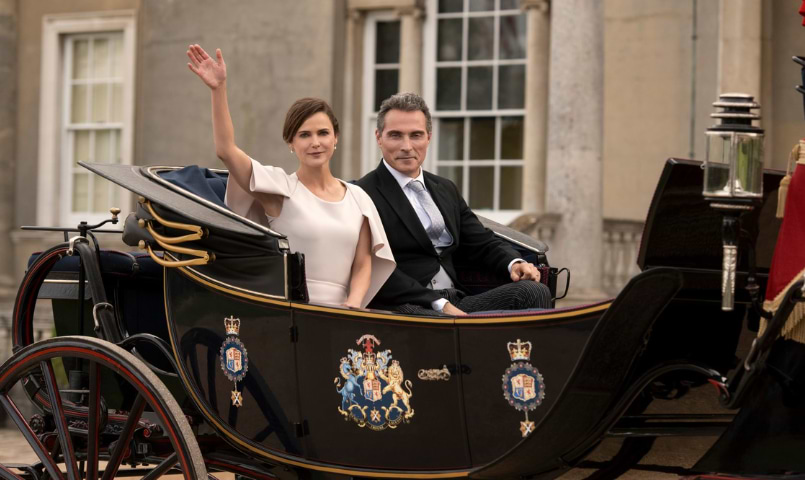 If you enjoyed watching Keri Russell in FXs "The Americans," follow her as she switches sides as an insecure American Ambassador in Netflix's "The Diplomat."
Smart 'n' savvy Kate Wyler (Keri Russell) is a longtime Foreign Service officer, specializing in delicate negotiations in the Middle East. Just as she's about to leave for a new post in Kabul, she's abruptly dispatched as Ambassador to the United Kingdom – taking up residence in Winfield House, near London's Regent's Park.
In the past, U.S. Ambassadors to the Court of St. James have not been career diplomats; instead, they've been big donors to whatever political party is in power, rewarded by serving in a primarily ceremonial job, filled with protocol and procedure.
But, suddenly, there's an international incident – an attack on a British aircraft carrier – that requires Wyler's expertise as a facilitator. Unbeknownst to her, she's also being vetted to replace the sitting vice president.
Perhaps a toxic thorn-in-her-side is Kate's swaggering, manipulative husband, Hal Wyler (Rufus Sewell), who has also served as an Ambassador. In the past, as a tandem couple, Kate has assisted him; now it's his turn to assist her – if he wants to stop their volatile, codependent marriage from unraveling.
The U.S. President (Michael McKean), his Chief of Staff (Nana Mensah) and the Secretary of State (Miguel Sandoval) need Kate to work with British Prime Minister Trowbridge (Rory Kinnear) and U.K. Foreign Secretary Austin Dennison (David Gyasi) to avoid a rapidly escalating conflict with Russia or Iran.
Coordinating the complicated mission is Kate's deputy Stuart Hayford (Ato Essandoh) and CIA station chief Eidra Park (Ali Ahn), plus other bureaucrats. But everyone seems to have his/her own agenda.
Kudos to Debora Cahn ("West Wing," "Homeland," "Grey's Anatomy") who created this compelling series, filling it with provocative, often cheeky dialogue and surprising plot twists and turns. It's already been renewed for season two.
FYI: While the exterior shots are of Winfield House, the interiors were shot at Wrotham Park in Hertfordshire, an estate that's perhaps familiar from "Bridgerton," "Downton Abbey," and "The Crown."
On the Granger Gauge of 1 to 10, "The Diplomat" is an engaging, explosive 8 – with all eight, hour-long episodes streaming on Netflix.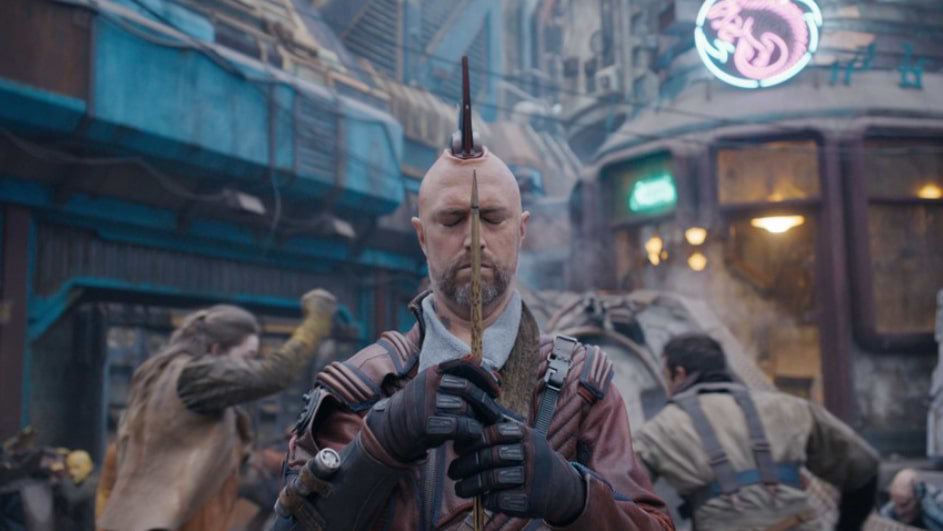 If you've been an avid follower of the Marvel Cinematic Universe and writer/director James Gunn's fun-loving band of intergalactic outcasts, you may be intrigued by Rocket Raccoon's origin story as chronicled in "Guardians of the Galaxy – Vol. 3."
Anthropomorphic Rocket (voiced by Bradley Cooper) was created by genetic manipulation by a mad scientist, The High Evolutionary (Chukwudi Iwuji), as part of his aim to create a utopia called Counter-Earth, generating and then exterminating various experimental creatures.
"There is no God! That's why I'm taking charge," he yells.
Years ago – before the first "Guardians of the Galaxy" – Rocket escaped from the biotech company known as Orgocorp, but now The High Evolutionary wants the talking raccoon back to study his super-intelligence and mental prowess.
So he dispatches a dim-witted, golden-hued synthetic, Adam Warlock (Will Poulter), along with the squishy Orgoscope spaceship filled with repulsive animal-human hybrids.
Naturally, Rocket's vagabond buddies – half-human Peter Quill – a.k.a. Star Lord (Chris Pratt), Drax the Destroyer (Dave Bautista), mind-manipulating Mantis (Pom Klementieff), acerbic Nebula (Karen Gillan) and Groot (voiced by Vin Diesel) – who have settled in Knowhere – want to help their critically-injured friend.
Plus there's newly resurrected, younger Glamora (Zoe Saldana), former ravager Kraglin (Sean Gunn, the director's brother) and a golden retriever Soviet space veteran known as Cosmo (voiced by Maria Bakalova).
In previous installments of the Guardians sci-fi action-comedy concept, there's been good-natured, space-pirate humor but, here, they're just babbling nonsense for a bloated two hours, 30 minutes.
The best sequences are poignant flashbacks showing how young Rocket gains sentience and bonds with other genetically-altered species, like an otter, rabbit and walrus. The worst sequences involve gross 'n' gruesome, heavy-handed destruction. And it's curious that James Gunn seems to be connecting with the currently controversial 'trans' experience.
On the Granger Gauge of 1 to 10, "Guardians of the Galaxy – Vol. 3" is a heavy-handed, bizarrely grotesque 5, playing in theaters – with two end-credits scenes and a closing title card claiming: "The Legendary Star-Lord Will Return."
(Editor's Note: Westport resident Susan Granger grew up in Hollywood, studied journalism with Pierre Salinger at Mills College, and graduated from the University of Pennsylvania with highest honors in journalism. In addition to writing for newspapers and magazines, she has been on radio/television as an anchorwoman and movie/drama critic for many years. See all her reviews at www.susangranger.com.)