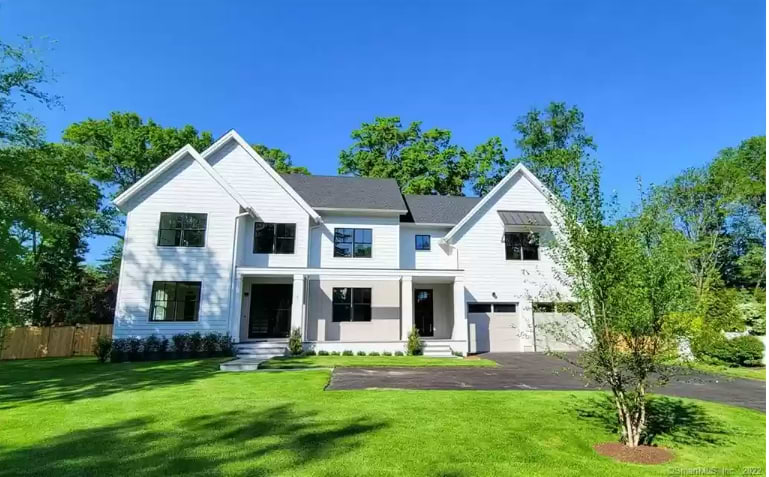 WESTPORT–During the week of May 31-June 3, 13 properties changed hands for a total of $22.6 million, generating $56K in conveyance tax.
1 Elizabeth Drive sold for $3,500,000.
Seller: SIR-1 Elizabeth LLC.
Buyer: Christopher Giuliano & Brett Monier Trs.
8 Long Lots Lane sold for $2,800,000.
Seller: Jasdeep Sidana & Namrita Talwar.
Buyer: Anupama Iyer & Easwaran Sundaram.
40 Cranbury Road sold for $2,410,000.
Seller: Max Bender & Angela M Arango Carvajal.
Buyer: Charles Mattlage Ruprecht & Jane Karin Emma Runquist.
7 Marvin Place sold for $2,385,000.
Seller: Raymond M & Christine E Spring.
Buyer: Ian & Jessica Gilbertson.
15 Sterling Drive sold for $2,000,000.
Seller: 15 Sterling Place LLC.
Buyer: Lorah Terese & William Harold Perlee.
28 Stonybrook Road sold for $1,700,000.
Seller: Canyon A & Kimberly J Ceman.
Buyer: Bryan & Hillary Blick.
4 Florian Court sold for $1,556,000.
Seller: 4 Florian Court LLC.
Buyer: Stephen & Lisa Holler.
13 Poplar Plains Road sold for $1,366,000.
Seller: Paul Michael & Emily Rawson Masino.
Buyer: Kevin & Sarah Tarsa.
22 Main Street sold for $1,250,000.
Seller: Joyce Fox Revocable Trust.
Buyer: 22 Main Assoc LLC c/o Randel Law Offices.
64 Kings Highway N sold for $1,090,000.
Seller: Brooke Hughes & Terence Ryan Quinn Trs.
Buyer: 64 Kings Highway North LLC.
10 Gorham Avenue sold for $1,075,000.
Seller: Joan B Ollweiler Tr.
Buyer: Hayley A Cook.
33 Oak Street sold for $875,000.
Seller: Tracy Schanzer.
Buyer: Michal Keller Benyaacov.
20 Cross Street Unit 3 sold for $585,000.
Seller: Jeannie McCadden.
Buyer: Maya Wertheim.
Source: Westport Town Clerk