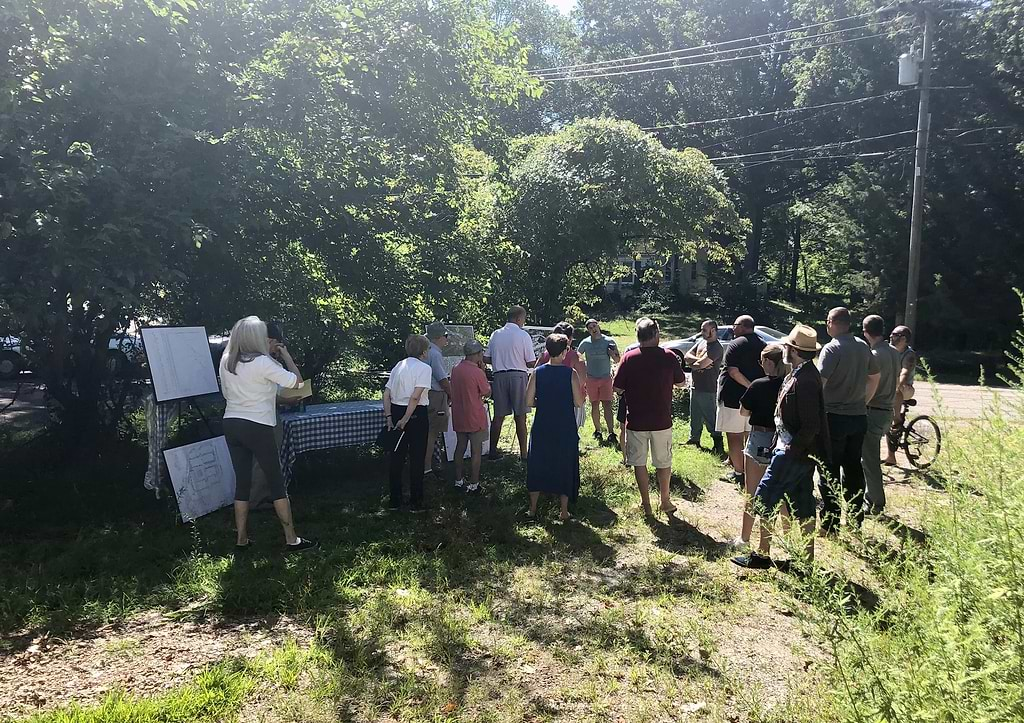 By Thane Grauel
WESTPORT — The developer seeking to construct a three-building, 157-unit apartment complex in a middle-class Saugatuck neighborhood held an informational meeting Saturday for those living nearby.
The 40-minute meeting was tense from start to finish, with neighbors challenging statements and presenters trying to say what they wanted to say without escalating people's emotions.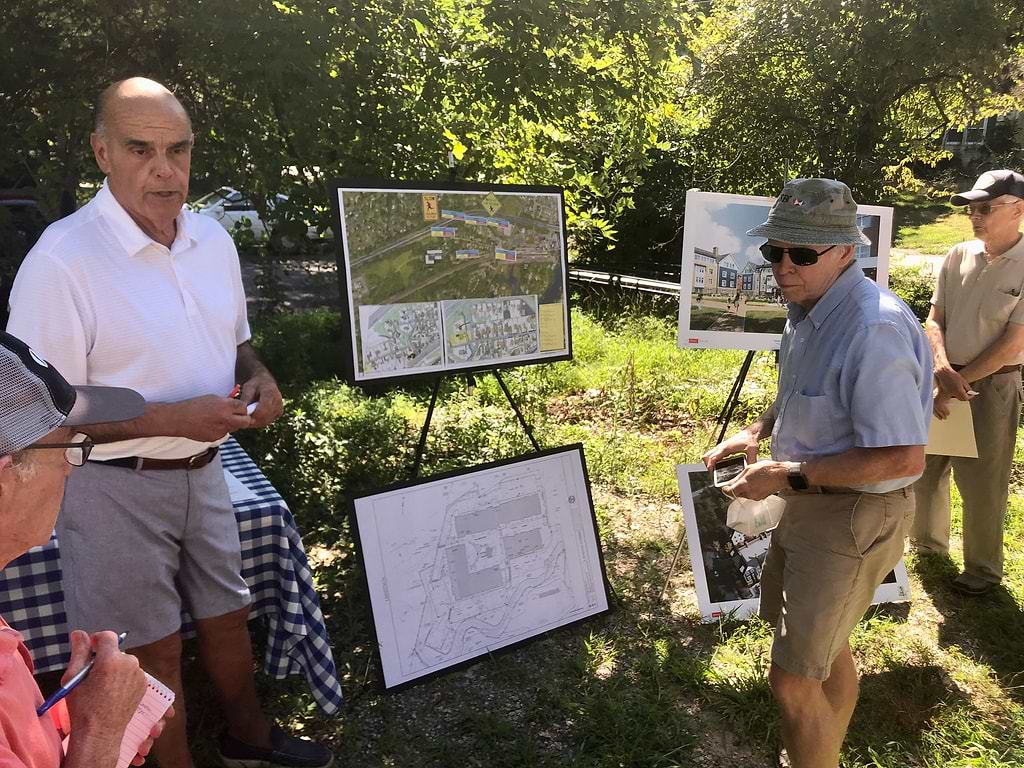 Peter Romano of LandTech began by saying that noise regulations would be followed. There were information sheets detailing the hours contractors could work on weekdays and weekends.
David F. Walsh of Summit Development thanked the neighbors for coming.
"We know this has been a long, contentious process, but now that we're ready to begin we are truly interested in hearing some of your concerns," he said.
"What's different about this, than what's over there in Norwalk?" asked one woman, referring to large buildings just over the town line on the old Norden property.
"What does this give Westport that's different than just a whole bunch of housing units and money for you guys?" she said.
"All of that has been adjudicated over the last 14 years," Walsh said. "This is approved by the city of Westport …"
"Nineteen years," murmured one of the neighbors regarding history. "Town of Westport," said another.
"Number one, it also gives them affordable housing, which they desperately need," Walsh said.
"We were already affordable housing," another neighbor broke in.
The drone of truck tires could be heard to the north on Interstate 95, and occasional trains clacking by on the Metro-North tracks to the south.
On a table sat stacks of business cards and contact lists for LandTech, the developer, Summit Development, and the general contractor, A. Pappajohn Co., which is located a mile and half down the railroad tracks, on Fort Point Street in East Norwalk.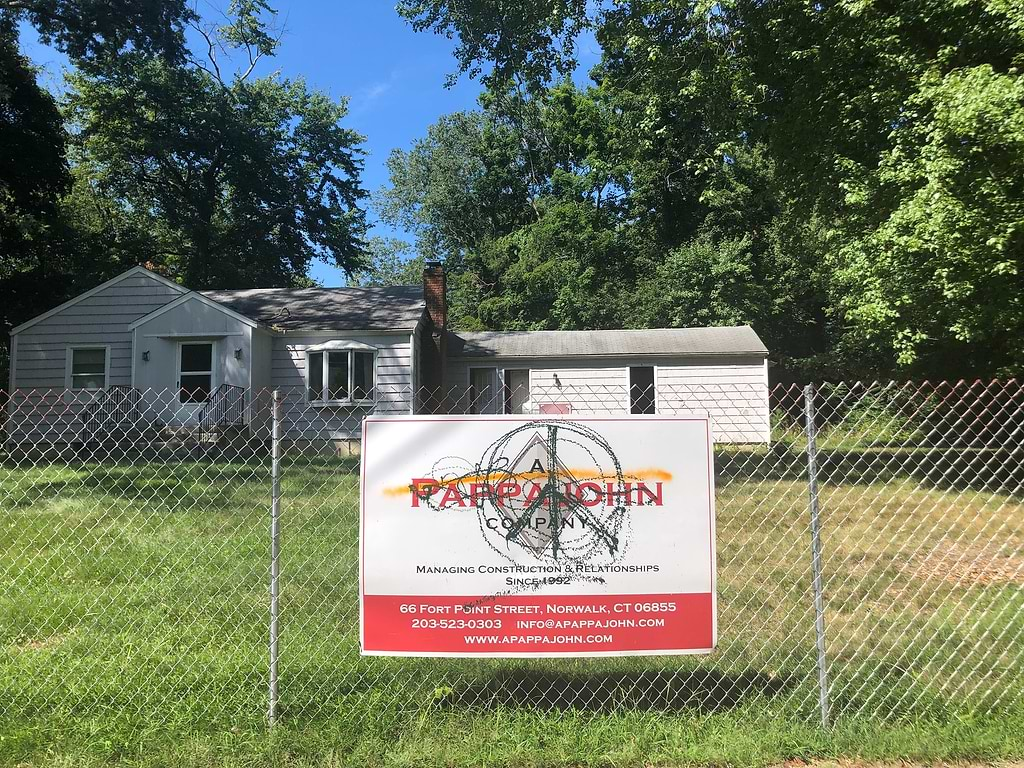 Also on the table was a case of water bottles. Though it was hot morning under a strong sun, it appeared only one neighbor took a bottle.
Romano said that prep work, such as asbestos removal, had been done in houses that will be torn down.
"Demolition will be over the next two weeks," Romano said, "and then clearing and grubbing." Someone asked what meant, and he said taking down the trees and grading the land.
"And then, sometime after that, construction will start," Romano said. "From start to actual finish it's probably about two years. August of 2024, we're anticipating it will be complete."
There were concerns about traffic — already a problem getting out of the neighborhood onto Saugatuck Avenue — becoming far worse, and making it difficult for firetrucks and ambulances responding to emergencies.
Save Old Saugatuck has fought the plan to build the apartment complex for 19 years. It has filed an appeal in Superior Court alleging many of the properties in the neighborhood were deed-restricted as single-family. The case is pending, but it appears the houses will be demolished regardless.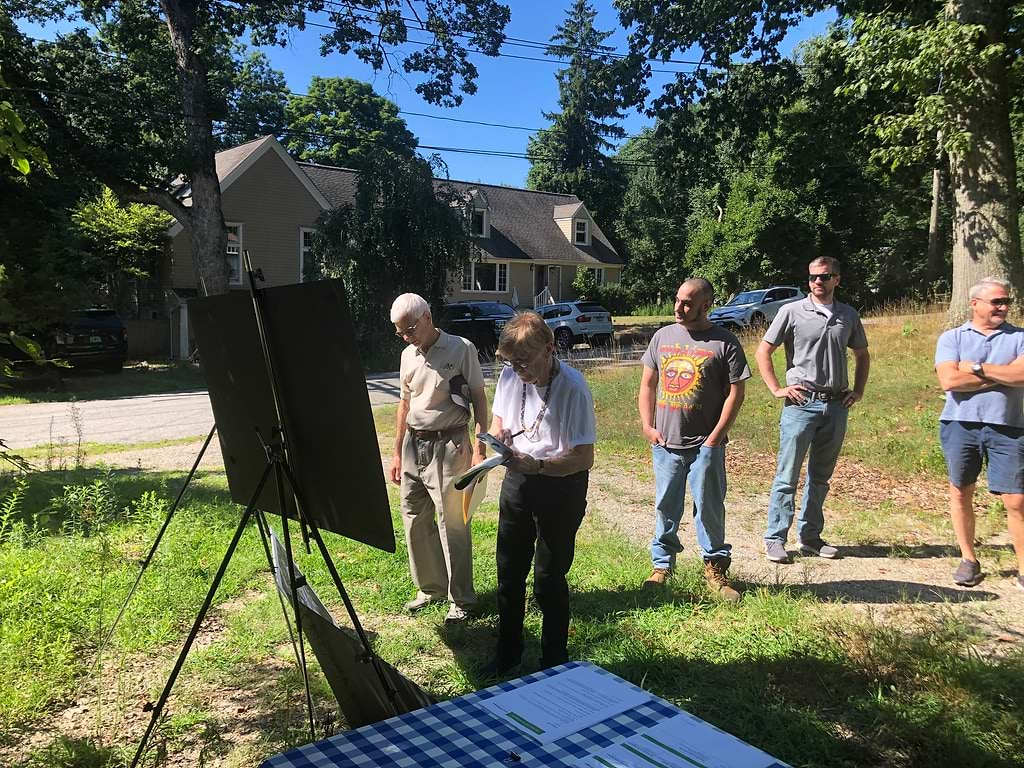 The town is eager to have the development get under way because it will add many units to its stock of housing deemed "affordable" under the state's 8-30g legislation.
The law gives developers leverage to push projects through in municipalities with less than 10 percent of their housing stock deemed affordable. It was one of the points Romano made in defending the project Saturday.
Westport is below that threshold, and is seeking an extension of a state-granted moratorium from the law.
"Some towns have fulfilled their obligations for affordable housing and some towns have not," Romano told the neighbors. "Therefore, you get this situation where, unfortunately, it's impacting this little neighborhood, I understand it."
"I'm not trying to be a wise guy, but you should have fought at the P&Z hearings stronger," Romano said of the Planning and Zoning Commission meetings.
"We were not allowed to speak at the Zoom meeting …," a man said excitedly. "None of us could get to talk. It's been going on 20 years, you're telling us we didn't fight?"
Thane Grauel, the Westport Journal executive editor, grew up in Westport and has been a journalist in Fairfield County and beyond more than three decades. Learn more about us here.