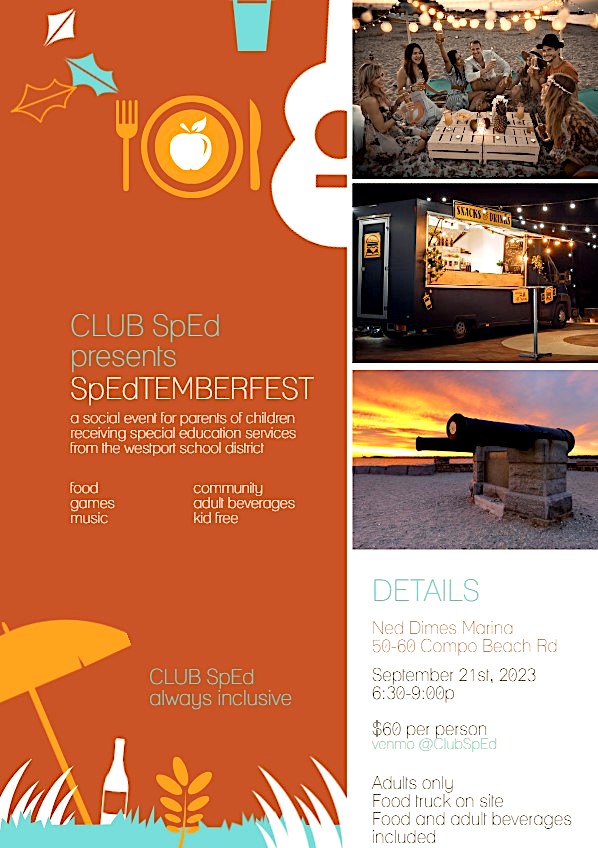 WESTPORT — A newly organized group to promote camaraderie and understanding among parents of children with special needs plans an inaugural social gathering Sept. 21.
The group, called Club SpEd, is hosting what is called a "SpEDTEMBER" gathering at 6:30 p.m. Thursday, Sept. 21, at the Ned Dimes Marina on Compo Beach Road.
Tickets to the adults-only event, which will feature food, beverages and music, cost $70 and can be reserved by emailing clubsped06880@gmail.com.
Club SpEd, organized for parents whose children receive special education services through Westport public schools, is designed to help foster "a sense of camaraderie and understanding that can only be found within the Club SpEd community," according to a statement from the group.
The club's founders include David Herling, Bia Hittman, Becky Martin and Abby Gordon-Tolan, who served as PTA special education representatives in local schools.
The group, according to organizers, will provide "a much-needed social outlet for parents who share similar experiences" with neurodiverse children.