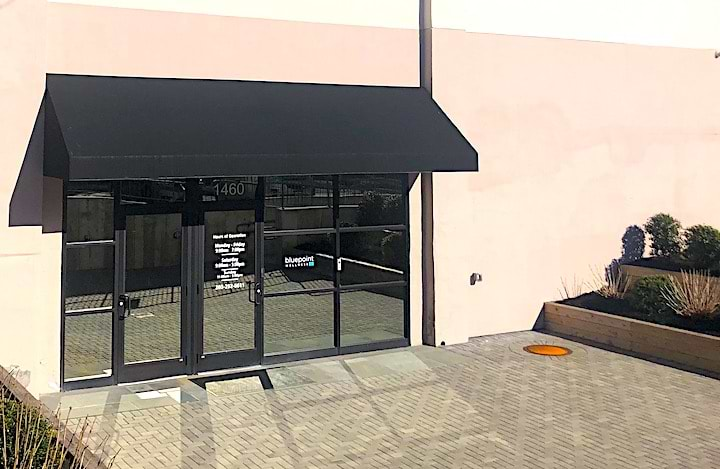 By John Schwing

WESTPORT — The business that runs a local medical marijuana dispensary wants to expand sales to include recreational marijuana — a plan facing a high hurdle given Westport's townwide ban on "legal weed" shops.
A representative of Bluepoint Wellness of Westport, which operates a medical marijuana dispensary at 1460 Post Road East, has asked to schedule a "pre-application" review by the Planning and Zoning Commission of its proposal to become "a hybrid cannabis retailer."
As defined under licensing regulations by the state Department of Consumer Protection, hybrid cannabis retailers are permitted to sell marijuana and marijuana products to customers 21 years old and over, as well as medical marijuana prescribed to qualified patients and caregivers.
The Bluepoint Wellness request for a pre-application review — a meeting where an applicant seeks non-binding feedback from the P&Z — was filed with the Planning and Zoning Department in a March 15 email from Anne Marie Zsamba, counsel for Land Use Entitlements.
The sale of recreational marijuana was legalized in Connecticut in January, and so far there are about 12 outlets around the state licensed to sell cannabis products under those regulations.
In Westport, however, a prohibition on all "cannabis establishments," with the exception of medical dispensaries, was enacted by the Planning and Zoning Commission in September 2021. The ban applies to all of the town's zoning districts.
Under state law, towns and cities are empowered to use zoning rules to regulate, restrict or ban the sale of recreational marijuana within their borders.
Westport zoning officials, as of Thursday, had not made a decision on whether to schedule the Bluepoint Wellness request for a pre-application hearing.
Bluepoint Wellness also operates RISE Branford, a hybrid business that sells both recreational and marijuana products in the town of Branford, east of New Haven.
The state Department of Consumer Protection reported that in February, the latest month for which sales statistics are available, marijuana sales in Connecticut totaled nearly $18.5 million.
Total sales included $7.02 million in the recreational market during the first full month since its legalization, and $11.4 million for medical marijuana.
John Schwing, the Westport Journal consulting editor, has held senior editorial and writing posts at southwestern Connecticut media outlets for four decades. Learn more about us here.