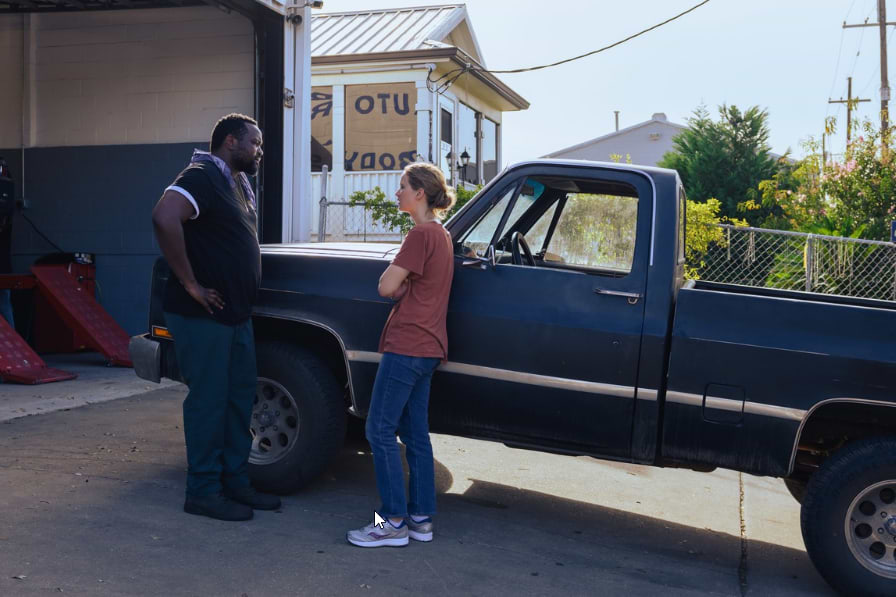 A "Causeway" is defined as 'a path above the level of a wetland.' In Jennifer Lawrence's mindful film about healing – it's her road to recovery as a wounded soldier returning from Afghanistan..
After her vehicle was hit by an IED while serving in the U.S. Army Corps of Engineers, specializing in water systems, Lynsey (Lawrence) arrives home in New Orleans suffering from a debilitating brain injury and compromised motor skills.
Although she was cautioned by a VA caregiver (Jayne Houdyshell) and warned by her neurologist (Stephen McKinley Henderson), she is stubbornly determined to redeploy, particularly since she has a fraught relationship with her boozy, flaky mother (Linda Emond) who didn't meet Lynsey at the bus.
Eager to physically and mentally convalesce as quickly as possible, Lynsey takes a job cleaning swimming pools. But she needs transportation and the beat-up, old truck, left behind by her drug-addled brother, needs a lot of fixing.
At a nearby garage, she strikes up an unlikely friendship with lonely car mechanic James (Brian Tyree Henry), who is working his way through the trauma of his own disability. What's most memorable is how these two disparate souls slowly connect, drinking beer and smoking weed, despite the awkwardness of their bond.
Broadway director Lila Neugebauer, a Yale alumna making her feature-film debut, developed the minimalist, character-driven script with newcomers Odessa Moshfegh, Luke Goebel and Elizabeth Sanders, constructing an intimate, honest, revealing drama.
Although she's become best-known as Katniss Everdeen in four films comprising "The Hunger Games" franchise, Jennifer Lawrence returns to her indie roots, revealing a raw vulnerability that's reminiscent of her compelling breakthrough performance in "Winter's Bone" (2010).
During a press conference at the Toronto Film Festival, Lawrence noted how her own troubled past prepared her for this part, revealing that she dropped out of school at age 14, leaving home because of a complicated relationship with her parents.
On the Granger Gauge, "Causeway" is a subtle, somber, understated 6, streaming on Apple TV+
When Chadwick Boseman tragically died of cancer in 2020, many wondered what would happen without King T'Challa. But Ryan Coogler solidifies this Marvel franchise's future in "Black Panther: Wakanda Forever."
A year later, as his mourning mother Queen Ramonda (Angela Bassett) asserts her authority at the United Nations and commiserates with her scientist daughter, Princess Shuri (Letitia Wright), suddenly, inexplicably, Wakanda is threatened by the unexpected arrival of a powerful, new force.
It's the Sub-Mariner King Namor (Mexican actor Tenoch Huerta), an ankle-winged, mutant Talokan of indigenous Yucatan/Meso-American descent. Deep in the Atlantic Ocean, the Talokans have discovered and utilized Vibranium, the natural resource that made the African kingdom of Wakanda so powerful – and now others want to exploit the rare mineral.
Will the enhanced, super-strong Talokans and Wakandans become allies against multinational forces or wind up fighting each other?
Scripted by Joe Robert Cole and director Ryan Coogler, the plot-heavy, character-laden story brings back carrot-chomping tribal elder M'Baku (Winston Duke) and super-spy Nakia (Lupita Nyong'o), living in self-imposed exile in Haiti.
Martin Freeman plays C.I.A. spy Everett Ross with Julia Louis-Dreyfus as his ex-wife/boss. Plus there are memorable newcomers like Danai Guria as General Okoye, Michaela Coel as her subordinate Aneka, and Dominique Thorne as Riri Williams, a precocious 19 year-old MIT tech-whiz with an Iron Man-like suit; she will spin-off her own Disney-Marvel TV show "Ironheart" in 2023.
Kudos to cinematographer Autum Durald Arkapaw, along with Oscar-winning production designer Hannah Beachler and costumer Ruth E. Carter who once again make their vividly distinctive, cinematic contributions, punctuated by Ludwig Goransson's propulsive score.
Running an action-packed two hours, 41 minutes, on the Granger Gauge of 1 to 10, "Black Panther: Wakanda Forever" is an excessive yet impressive 8 . YOU MUST STAY for a surprise during the credits or miss an intriguing glimpse into the future.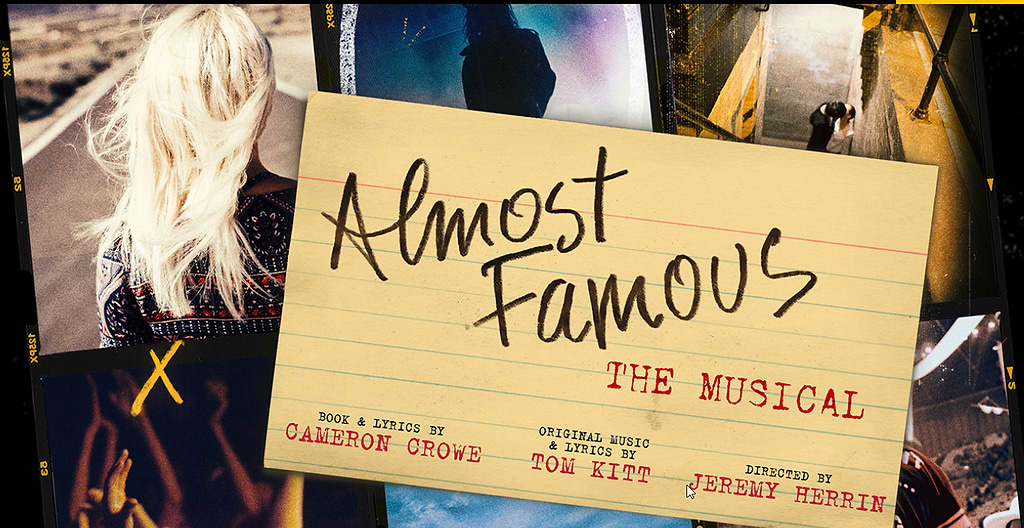 In 2000, Cameron Crowe drew on his own youthful experience to create "Almost Famous," a coming-of-age dramedy about a rookie rock journalist writing articles for Rolling Stone in the early 1970s.
After its premiere in 2019 at San Diego's Old Globe – a new version of "Almost Famous" just opened on Broadway. Crowe wrote the semi-autobiographical book about a fictitious Led Zeppelin-like band called Stillwater and shares lyrics credits with composer Tom Kitt ("Next to Normal"), who wrote the score.
Set in 1973, the show begins with "It's over," uttered by cynical Lester Bangs (Rob Colletti), referring to real rock 'n' roll, as he tries to discourage wide-eyed, nerdy 15 year-old William Miller (Casey Likes).
Nevertheless determined to interview members of Stillwater, William befriends them – a seductive temptation which inevitably becomes a problem when he tries to write the behind-the-scenes truth about them and their music.
Helping William get a backstage pass and passage on the tour bus is affable, empathetic Penny Lane (Solea Pfeiffer), leader of the "Band-Aids" (Julia Cassandra, Katie Ladner, Jana Djenne-Jackson). She hangs out with lead guitarist Russell Hammond (Chris Wood), when he's not with his "ex-ex-wife."
"We are not Groupies," Penny insists. "Groupies sleep with rock stars because they want to be near someone famous. We're here because of the music; we inspire the music. We're Band-Aids."
Meanwhile, back home, there's William's rebellious older sister (Emily Schulthesis) and his frustrated, uptight, widowed mother (Anika Larsen), who begs William to come home in time for graduation.
Too bad British director Jeremy Herrin and choreographer Sarah O'Gelby don't put much that's original– or even memorable–on Derek McLane's bland, bare-bones scaffolding except vintage, bohemian nostalgia – post-hippie, pre-disco – with credit for that going to resourceful costumer David Zinn.
The funniest line is spoken by the band's 'new' manager (Jakeim Hart): "If you think Mick Jagger will still be out there trying to be a rock star at age 50, you are sadly, sadly mistaken." Problem is: that and other pithy remarks are lifted straight from the film.
Bottom Line: Re-visit the movie, starring Patrick Fugit, Kate Hudson, Billy Crudup and Frances McDormand, or see it for the first time on Amazon, Vudu, iTunes or YouTube.
Westport resident Susan Granger grew up in Hollywood, studied journalism with Pierre Salinger at Mills College, and graduated from the University of Pennsylvania with highest honors in journalism. In addition to writing for newspapers and magazines, she has been on radio/television as an anchorwoman and movie/drama critic for many years. See all her reviews at www.susangranger.com.