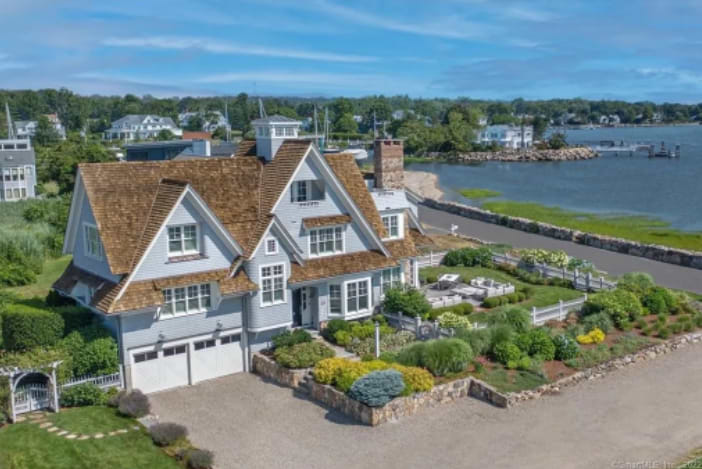 WESTPORT–During the week of October 31-November 4, 10 properties changed hands for a total of $15.9 million, generating $39K in conveyance tax. One year ago, 8 properties traded hands for a total of $13.2 million.
22 Bermuda Road sold for $4,750,000.
Seller: Douglas R & Diane M Legrande.
Buyer: J Kevin & Maria C McFall.
34 Harbor Road sold for $3,300,000.
Seller: Three Dog Walk LLC.
Buyer: John Halvey.
89 Partrick Road sold for $1,825,000.
Seller: Keith W Price & Joanne Dinapoli.
Buyer: Megan Filoon & Michael Goulart.
6 Stony Pt Road sold for $1,250,000.
Seller: Barbara Borck Hart Tr, Cheryl Borck Hadley Tr.
Buyer: 302 Campbell Avenue LLC.
64 Kings Highway N sold for $1,200,000.
Seller: 64 Kings Highway North LLC.
Buyer: Evangelia Tsiropoulos.
6 The Mews sold for $900,000.
Seller: Gloria Lechner Living Trust, Matthew Whitney Lechner Tr.
Buyer: Erika Wright.
14 Highland Road sold for $860,000.
Seller: Donna H Buckenmaier.
Buyer: Mehrfam Pour-Manouchehri.
124 Riverside Avenue Unit 2 sold for $850,000.
Seller: Erika Wright.
Buyer: William J & Valdemira L Vanzetta Trs.
230 Saugatuck Avenue Unit 8 sold for $775,000.
Seller: James Carroll Cousins Jr.
Buyer: Tristen Park.
27 Bauer Place Ext sold for $217,748.
Seller: Christopher Monroe & Patricia Gurahian.
Buyer: Patricia Wetmore Gurahian.
Source: Westport Town Clerk