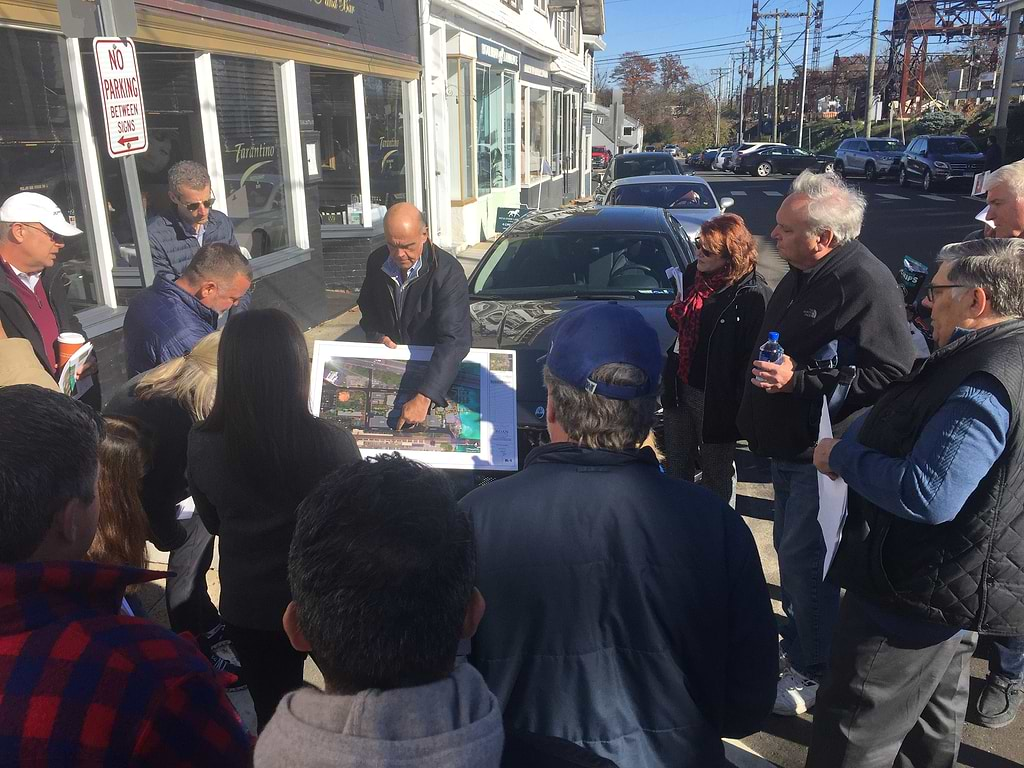 By Thane Grauel
WESTPORT — The Planning and Zoning Commission had a full day Monday with an afternoon field trip and another marathon nighttime meeting to review the "Hamlet at Saugatuck" project.
At noon, members and staff, accompanied by the applicants, town officials and others, met for a field trip to reconnoiter the area where ROAN Ventures seeks to make sweeping changes — between the Saugatuck River, Charles Street, Franklin Street and Railroad Place.
The group walked from the Black Duck parking lot (where two buildings, but not the café, are to be replaced), across Riverside Avenue and up Charles Street (where Minuteman Cleaners would be razed and the late '60s office building no one seems to love would get a face lift), to the corner of Franklin Street.
The group then headed to a parking lot/boat storage yard on the west side of Franklin, across from a martial arts school (which also would be replaced), where a marketplace meeting center is planned.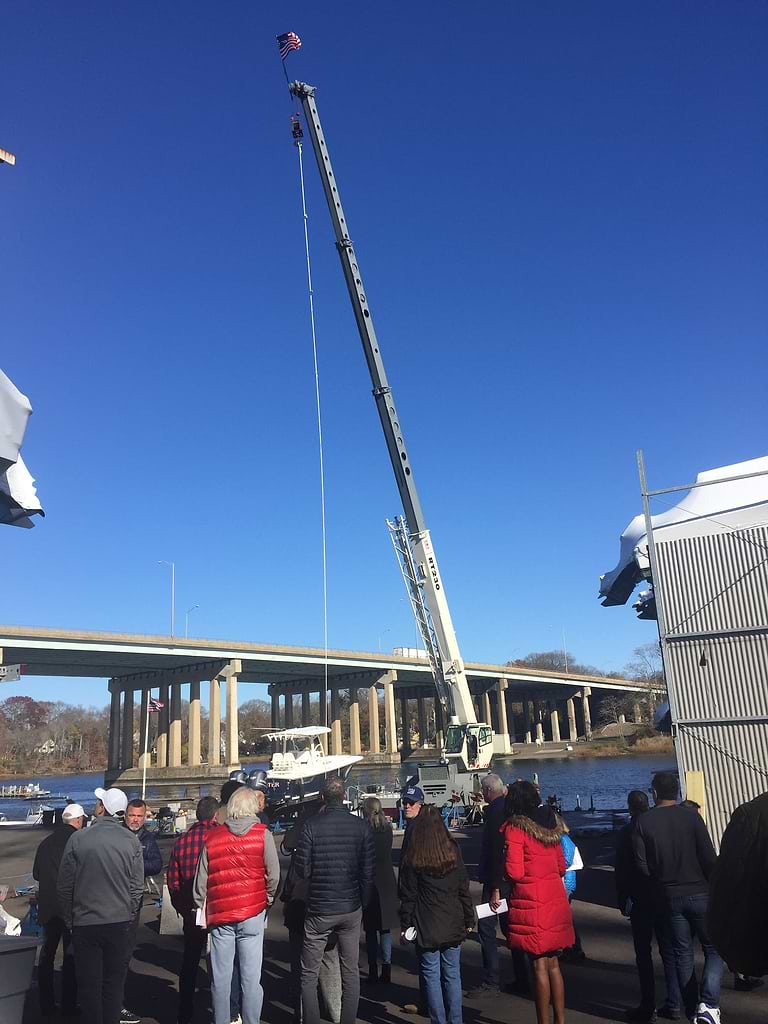 The tour then headed down Railroad Place, where little would change, and down an alley between two restaurants to the heart of Morton's Parking, an operation that's been around as long as just about anyone in Westport.
The group crossed Riverside again at the old brick post office (not part of the project) and viewed a crane by the river with ribbons hung from a rope to illustrate heights of 80, 70 and 60 feet.
The group then hiked its way between boats hauled out for the winter, back to the Black Duck parking lot.
The P&Z soon has to close the public hearing on the text amendment requested by the applicant, ROAN Ventures, and then has about eight weeks to make a decision.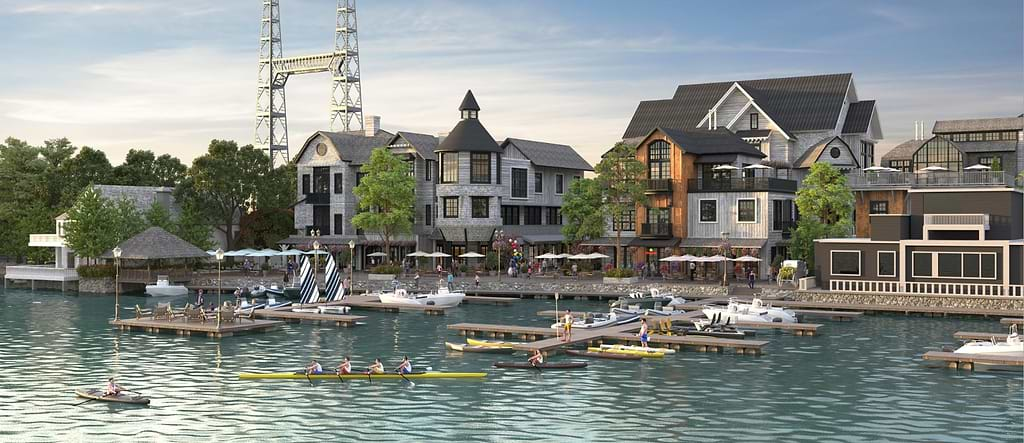 The zoners, based on comments made by Chairwoman Danielle Dobin and others, are mindful that if the commission doesn't work with applicants like ROAN, it could lose control over housing projects under the state's 8-30g legislation. The town's state-granted moratorium is set to expire soon, and it could be several months before another moratorium may be granted.
ROAN has not hinted at any such threat, as P&Z members noted, but its lawyer, Eric Bernheim of FLB law, has mentioned time is not on developer's side, and that the project would not be viable without certain parameters.
P&Z members and ROAN representatives during Monday evening's online public hearing jousted over building heights, parking requirements, coverage issues and setbacks.
Dobin was adamant that the required affordable housing units should be closer to the train station than within the half-mile proposed by the developers.
She also wanted to see a cap of 35 "doors" per acre.
And the zoners agreed that 70-foot heights for buildings didn't work for them.
When zoners called for a five-minute break, Bernheim asked for more based on what they'd heard.
"We're a little bit shocked," he said. "Because GBDS (General Building District, the area's current zoning) allows minimum 40-foot-height buildings, and now you're trying to cap us at 35 without bonuses, so … we need to a little bit of strategizing here, and talk about viability before we come back and chat with you about whether or not there's any wiggle room."
The commission agreed to take up other agenda items in the meantime, so ROAN could discuss the plans.
When the public hearing on the Hamlet was resumed, Bernheim said they'd agree to 35 doors per acre, and to place the affordable housing units within a quarter-mile, rather than a half, of the station.
"I'd also like to discuss the percentage that we're offering," Bernheim said of the affordable housing component. "Currently, the percentage that we're offering is 25 percent, based on the on-site units, that's more, I believe, than anywhere else in Westport for any affordable component required under your regulations."
The town requires 20 percent.
"So, we believe 25 percent, in order to comply with your regulations that we're talking about now is very fair, and we believe providing it within a quarter of a mile of the train station checks all the boxes."
Building heights were trickier. Bernheim said building heights near the river starting at 35 feet instead of their preferred 50 "did not work for the programming."
"With the proposed outdoor space, we'd like to start at 40, and then take the same 15-foot bump to 55 feet, and then 60 feet," Bernheim said of riverfront structures, including bonuses for public access and parking.
Bernheim expressed concern about public comment cutting into their time.
Michael Calise thanked the commission for its work so far, and said, "no applicant should have the right to set thresholds as far as the public's opportunity to speak."
After the break, Bernheim made a similar comment.
"Most of the people who come to speak are those who have concerns, but we've submitted information … letters in support in petition of over 300 people who have said they think what we're proposing and showing in these renderings would be a great addition to Saugatuck," Berneim said. "So, we wanted to make the point that sometimes the people that are the most vocal are poking holes in what the proposal is …"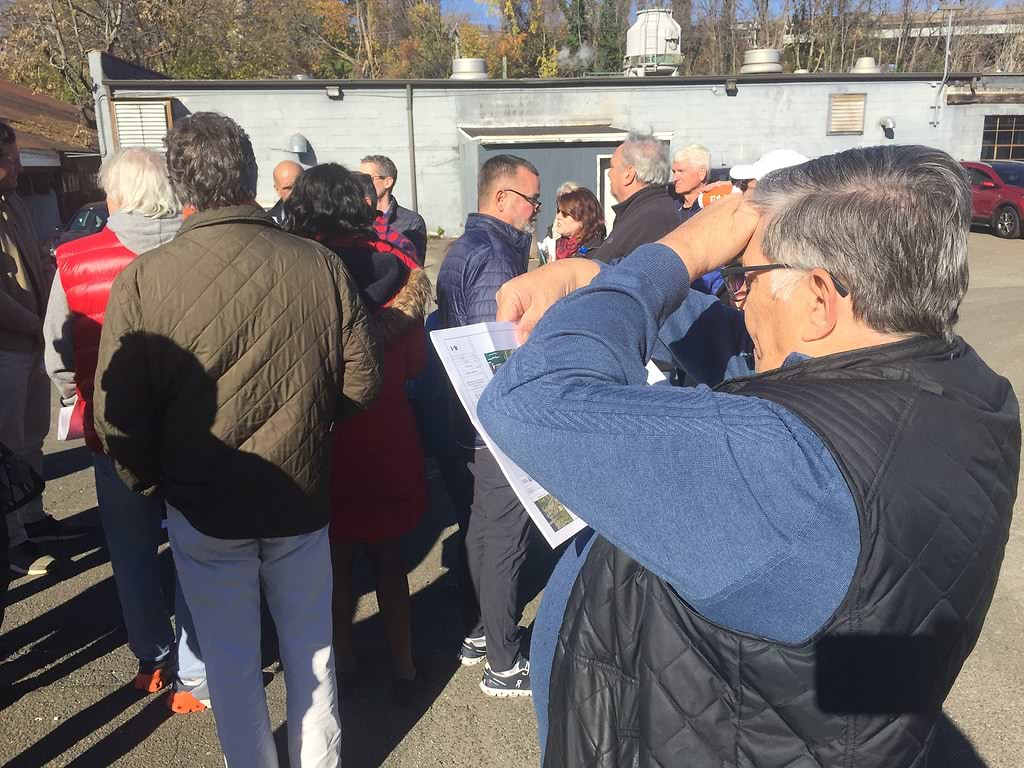 That appeared to rankle commission member Paul Lebowitz, who noted that most of the speakers were Representative Town Meeting members or others who have served in public positions.
"I'm going to speak on behalf of the [Matthew] Mandells, the [Chris] Taits, and [Mike] Calises of the world," Lebowitz said. "All three of these gentlemen have vast experience, know what they're looking at, and while they don't carry the certain letters and digits after their names as some of the people on your team, all of them are very concerned, and looking out for the town. And I've had many a conversation with them, not one spoke ill of this."

"All three of them," Lebowitz said, "gave suggestions on how to make it better, so I definitely don't want you to think only the guys who stay up late are going to throw bombs at you."
"The fact that Mike Calise spoke up is the fact that he wanted to help you get there," Lebowitz said. "And he's got the institutional knowledge so I think we should at least respect it and not throw bombs at him."
Dobin hit the brakes on the debate, saying it was getting late and that it wasn't particularly productive conversation.
The commission continued the hearing to Monday, Nov. 21.
Thane Grauel, executive editor, grew up in Westport and has been a journalist in Fairfield County and beyond more than three decades. Reach him at editor@westportjournal.com. Learn more about us here.