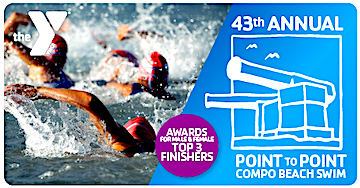 WESTPORT — The shortest distance between two points?
A mile. In open water. At least, that's the case of the Point-to-Point Swim, sponsored by the Westport Weston Family YMCA.
Swimmers hit the water in this year's event, in its 43rd year, on Sunday, July 10, at Compo Beach.
The mile-long competition, featuring four divisions for swimmers of different abilities, takes place from 7 to 11 a.m. It kicks off near the beach's cannons.
Online registration for the event costs $50. In-person registration Sunday costs $60 and will be accepted starting at 7 a.m.
Starting times for the four heats in the swim are: advanced swimmers, 8 a.m.; intermediate swimmers, 8:05 a.m.; beginners, 8:10 a.m., and special-needs swimmers, 8:15 a.m. Special-needs swimmers will be accompanied by My Team Triumph volunteers to provide assistance and safety during the event; special-needs participants must be registered in advance for this program by clicking here.
The top three men and women finishers will win awards. Registered swimmers will receive an official Point-to-Point swim cap and tee-shirt.
Proceeds from the event benefit the Family Y's aquatics programs, "including swim lessons that teach children and adults essential lifesaving water safety skills that build confidence in and around water and help to minimize the risk of drowning," according to a publicity announcement for the event.
For more information about the Point-to-Point Swim, contact the Westport Weston Family YMCA at 203-226-8981.