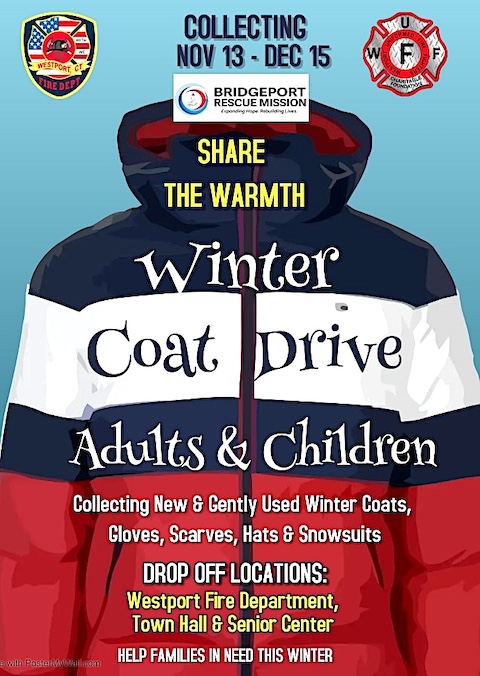 WESTPORT — Firefighters are organizing a local collection of coats and other cold-weather clothing for donation to people in need.
The "Share the Warmth" drive — through Dec. 15 — will benefit the Bridgeport Rescue Mission, which in addition to clothing, provides food, shelter, health and recovery programs at no charge for those who need support.
Donations of new or gently used/clean winter coats, hats, mittens, gloves and snowsuits will be accepted in receptacles at Fire Department headquarters, 515 Post Road East; Westport Center for Senior Activities, 21 Imperial Ave., and Town Hall, 110 Myrtle Ave. Several local schools also have collection boxes at the entrances.
Firefighters will then sort the donations and transport the clothing to the Bridgeport Rescue Mission.
"This drive touches the lives of hundreds of men, women, and children from the area's most distressed, local neighborhoods," Deputy Fire Chief Nick Marsan said in a statement announcing the winter clothing collection.
"A coat may seem like a simple thing, but thousands of children and adults in communities close by will need a warm, winter coat for the cold months ahead," he added.
Firefighter Rob Lenois, the president of Westport Uniformed Firefighters Charitable Foundation, said, "This gives us the opportunity to give back and lessen the burden that families are carrying. Together we can make a difference, help change lives and share hope.
"Last year, we distributed 1,353 coats from the efforts of this generous community."