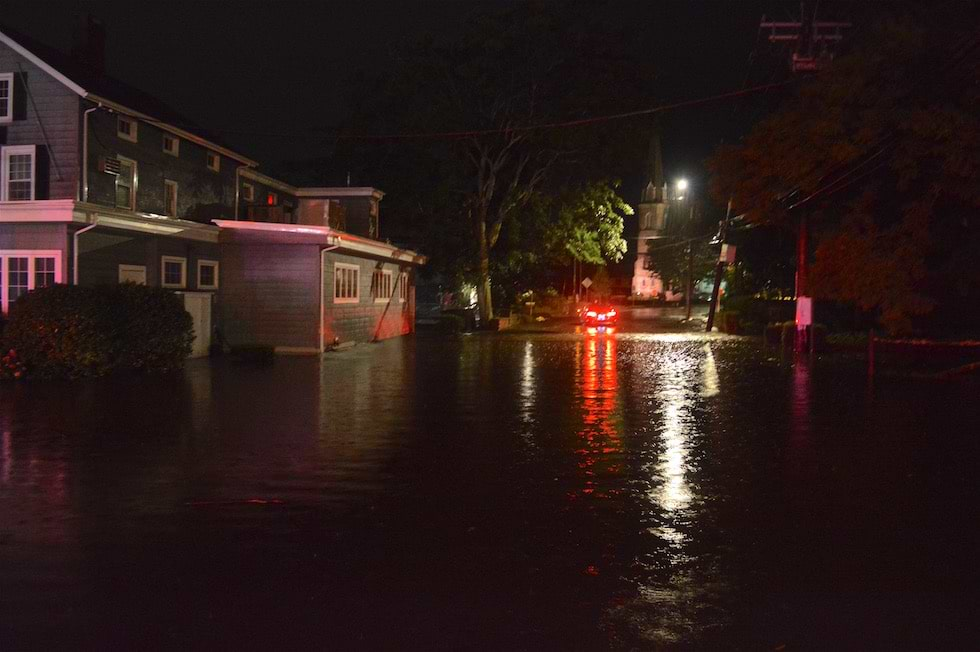 By Thane Grauel
WESTPORT — The people living along Deadman Brook heard on Thursday night what they've heard before — there is no easy solution to its flooding problems.
A fix for the persistent problems, the worst of which is downtown between Myrtle Avenue and Bay Street, could cost $100 million or more to remedy, and even then, might not be very effective.
The only easy question during the latest in a series of hearings on Westport's inland flooding issues was what the brook is actually called, and why.
Various maps, studies and agencies have Deadman as one word, or two, some possessive, some not. Morley Boyd, who has a keen interest in local history and has lived his life on Violet Lane, the epicenter of the brook's flooding, solved that mystery.
"Deadman's Brook, that's the Deadman family, an early Westport family," Boyd noted to the crowd in the Town Hall auditorium.
So, perhaps disappointingly, no facedown corpse in the brook's ancient, gurgling past. No legendary skullduggery afoot.
The most troublesome stretch of the waterway — which has its headwaters in Fairfield and meanders its way under Cross Highway, North Avenue, along Evergreen Avenue — is the approach to downtown.
The stream on most days is scenic and tame. But it bottlenecks at a culvert under Myrtle Avenue, and again under Post Road East. During periods of intense rain over a short period, that postcard stream becomes a raging waterway.
"It's such a bottleneck because it involves a couple of buildings, a state road, an undersized culvert, and there's physically not enough space to widen the stream enough without taking out all of the above, and rebuilding them elsewhere, making that stream 25 feet wide," Public Works Director Peter Ratkiewich said.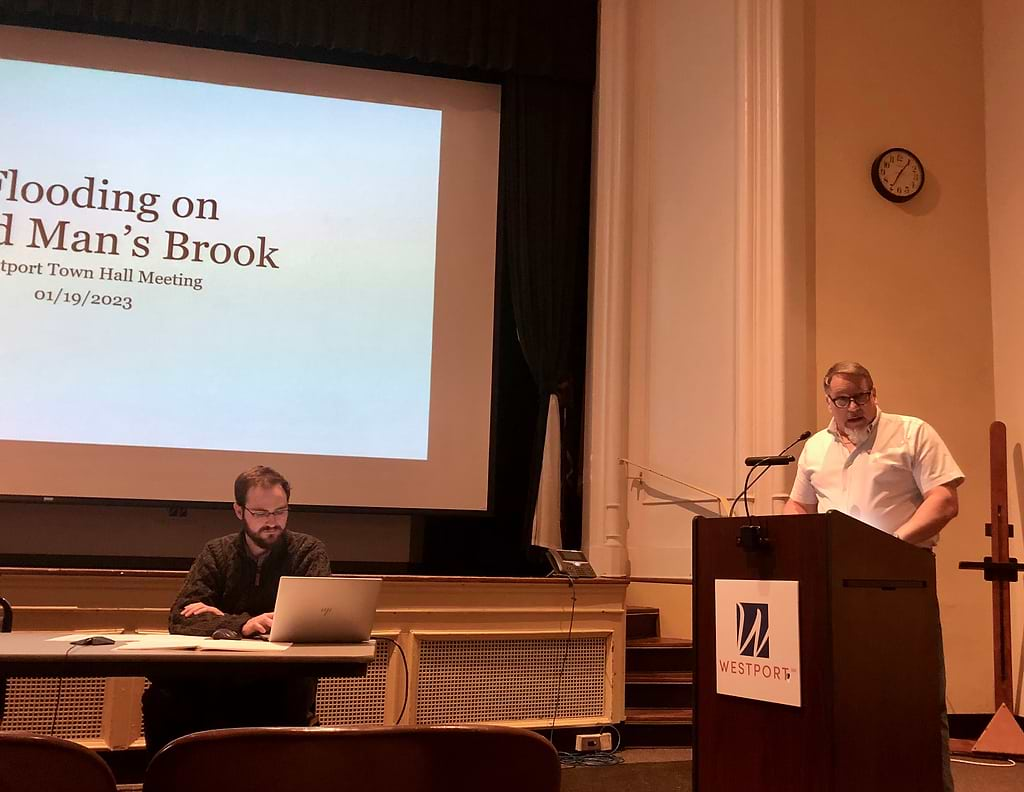 "It's pretty unlikely that we're going to go in and take that much property," he said. "If we had enough money, I guess we could."
That would cost tens of millions, he said, maybe even more than $100 million. And still, it might only get the area through a two-year storm without water overtopping the roads.
Boyd said he and his neighbors see the reality.
"We've kind of come to certain truths, and one of them is that is not a problem that can any longer be fixed," he said. "It was probably too late by 1956, to do anything, owing to the overdevelopment our town.
He said that at this point, he and his neighbors have no expectation of being "bailed out," and instead they have been concentrating on hardening their properties against flooding.
Bob Clair of Evergreen Avenue, said a holistic approach is needed.
"I think what we need to do is expand our thinking and if they need for us to ask the question, when the 100-year flood comes, and it's going to happen at some point in time, what is going to happen to everyone in that flood plain?" Clair asked.
"How bad is it going to be, what houses will be underwater, what potential loss of life might happen, and do we need to run a simulation like that and put it in front of our elected leaders and say, our engineers told us we have a crisis, we can you tell how big this is going to be in all likelihood when it happens, what are you going to do about it now as opposed to waiting for it to happen …"
Kathy Clair of Evergreen Avenue, looked to Town Hall for guidance.
"We have a problem that we all need to fix," she said. "We have to move forward. It's been years."
Keith Wilberg, a town engineer who gave the Public Works Department's presentation, was clear about the challenges.
Getting people to agree to widen the brook to 20 feet or more, he said, "where it's now five feet wide, becomes a logistical nightmare."
He and others from his department stressed that the flooding issues are a complex issue, but that the experts welcome people coming in to talk about them.
Ratkiewich and Wilberg discussed an earlier study that said if the downtown problem can't be tackled, retaining water at places upstream would be next best option, including a large portion of Winslow Park. But that presented a whole new set of challenges.
Nancy Kail, a Representative Town Meeting member from District 9, who lives in the watershed, said she'd have no problem with using Winslow Park for a water-detention area.
Sal Liccione, District 9, who lives downtown and said rising flood levels would soon be inside his dwelling, called for a more dependable local alert system for flooding events.
The final public forum on inland flooding problems is set for 7 p.m. Thursday, Jan. 26 in the Town Hall auditorium. It will address Poplar Plains and Stony Brook
Thane Grauel, executive editor, grew up in Westport and has been a journalist in Fairfield County and beyond more than three decades. Reach him at editor@westportjournal.com. Learn more about us here.