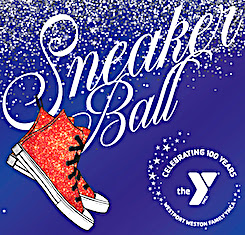 WESTPORT — To celebrate its 100th birthday, the Westport Weston Family YMCA is putting its best, sneaker-shod foot forward.
The "Sneaker Ball," the pinnacle event of the WWFY's year-long centennial observances, will take place at 6:30 p.m. Friday, Oct. 6, at the Y's Mahackeno Outdoor Center on Allen Raymond Lane.
The event will feature cocktails, food, a live auction and dancing. Organizers recommend semi-formal evening attire for the eventing, "with your favorite, fab pair of sneakers."
Tickets to the event can be reserved online by clicking here.
The gala, the Y's largest fundraiser of the year, supports its mission "to transform lives and strengthen our community with beneficial programming that is accessible for all," according to a publicity release.
Funds, in particular, will benefit programs for under-served children and families with scholarships "for safe and dependable childcare, an unforgettable summer at camp and life-saving swim lessons," the Y statement said.
For gala sponsorship opportunities, click here. And to donate items for the gala auction, click here.
For more information or questions about the Sneaker Ball, email Kathie Guthrie.